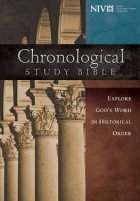 Ever read a chronological Bible? I've seen them, but never really dug into their pages before until now. I had the chance to review the NIV Chronologic Study Bible from Thomas Nelson and jumped at the chance. A chronological Bible lists the events in the order that they actually occurred.
 I really like this Bible. Now I must tell you at first the order of the books is jarring if you know the traditional table of contents of God's word. Finding a verse or even a whole book was disorienting. I had to study the study bible to understand its arrangement. I quickly learned to watch the top of each page for the year and passage reference.
For example don't open to the middle to find the book of Psalms. The psalms were written over a span of many years so you will find Psalm 90 in the middle Deuteronomy. They are scattered throughout other books. The four gospels are merged into one reading – as aspect I really like. You see the scripture in a whole new perspective reading the words in sequence.
The information and material in this study bible is rich and wonderful. The pages are filled with commentary, historical overviews, background notes, maps, time panels and chars and culture and historical topics.
The Chronological Bible will be a study tool to deepen my personal study and I will use it as a reference for teaching too.
I really liked this Bible and highly recommend it to add to your library.
Disclosure of Material Connection: I received this book free from the publisher through Booklook Blogger. I was not required to write a positive review. The opinions I have expressed are my own