My father served in World War II while my older brothers grew up. I came along much later. Being the only girl and the only baby he really got to enjoy as an infant, needless to say, we were close.
   My dad was a physician and was doubly frightened in the 1950s polio epidemic: he knew the devastating effects of this disease after seeing it in his practice and he had a little girl to protect.
   On day he called me into the living room and said he had a gift for me. He brought home the first dose of the polio vaccine his office received to give to me. I don't remember the sting of the needle, only his strong loving arms and his tender, slightly shaking voice. 
  When I think of being so close enough to God to hear Him breathe – I think of that intimate moment being in my dad's arms. It is a powerful image for me.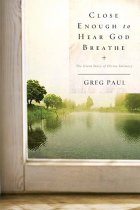 Greg Paul has written a new book called, "Close Enough to Hear God Breathe." He writes the basic message God says over and over again to each of us is "My child. My beloved. My pleasure."
Full of personal stories and biblical examples illustrates all of his points. This is both the strength of the book – making it very readable – and its weakness – for me too many stories and not enough 'meat." I wanted to finish the book with new practical ways or at least one new unique exciting approach to growing closer to God. I didn't.
The back of the book lists questions for each chapter lending itself to small group discussion. This book in its simple style would work great in that type of setting; easy to read and would open up the conversation quickly between people.
I received this book free from the publisher through the BookSneeze®.com book review bloggers program. I was not required to write a positive review. The opinions I have expressed are my own.
Discussing the word intimacy and the word God together is uncomfortable for some people.  God does want a closer relationship with all of us and this book is one tool that will help people hear that invitation.
What books have you read lately that drew you closer to God?