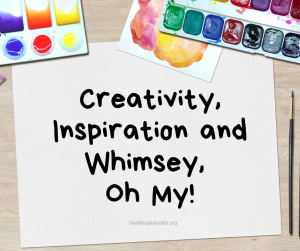 Creativity.  Ever enter a room radiating this essence?
I visited a friend's pottery studio last week. Every cell in my body tingled as I breathed in her imagination on the workbenches.  I felt like the first time I walked down Walt Disney World's Main Street – all my senses bursting with glorious inspiration.
One room held mounds of grey clay waiting to be shaped.  The primary studio presented a great array of partially completed animals – dogs, cats, armadillos, mice, birds, – wearing unique forms of transportation – wheels, skateboards, balls, wagons, boats, planes.
Quirky, humorous animals with unusual moving parts – all being molded by my potter friend for a show in Florida this coming winter.
What an imaginative combination. My world whirled with wonderful whimsey.
Her originality and imagination reminded me of my visit to the Marietta Museum of Art and Whimsey in Sarasota, Florida.  A must see for any of us who needs some joy. Visiting their displays comes with a guaranteed smile.
Whimsey is one of my W words I am exploring this year (see this post for more information about my three WWW's for 2019).  The visit to this studio fueled my hunger to dive into the elements of creativity and how choosing and cultivating this skill of seeing the world in new ways brings all of us once again to the awe and wonder of the Creator.
Elements of Creativity
What are the ingredients in creativity?
Curiosity – Cultivate the skill of observing what is and asking what could be if…?  Be like a child always wondering, examining, noticing.
Candid and open – be willing to let go of old patterns, known definitions, and common explanations. Be like a child seeking what is beyond the seen and reaching out for the unseen.
Connections – See the patterns, noting what isn't present and make new configurations. Be like a child building blocks into skyscrapers, bridges and lands containing unique combinations like animals wearing wheels.
Creativity is the act of connecting things in an exceptional way.
Jason Theodor
Challenge – take the risk to try something new, learn a different skill, mingle to unrelated subjects into a unique creation. Be like a child and play.  The towers of building blocks may crumble, the recipe may taste bland, the writing idea may start with a bang but die before the ink dries – but you will never know until you start.
God is creative and since we are made in his image the creative gene thrives in each of us, waiting for just the right elements to combine that lights that fire within our imagination.
What elements of creativity am I missing, and you could add? How do you see creativity related to whimsey? What is God teaching you about creativity?