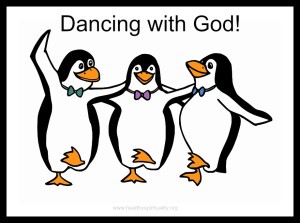 The poetry of Edwina Gately has been warming my heart lately. Ever notice how some people's words bring you closer to God? She certainly is filling my soul this summer.
Last week I wondered and we discussed Summertime Spiritual Slump. I think poem of hers is one way to see God in the summer.
Here is what I read the other day:
"God escaped from
all my little boxes and labels.
The more I tried to claim God,
the more God slipped away.
But if I dare
To rise from my knees
And leap in joy
At the song of the bird,
And if I dare
To stand in awe
At the mounting of the moon
In a thick-starred sky,
And if I dare to be amazed
At the constant seeding of the earth –
Then, oh see! oh see!
I glimpse my God –
ever free, ever dancing,
Ever calling out my name."
Rising from my knees and dancing with our Lord!