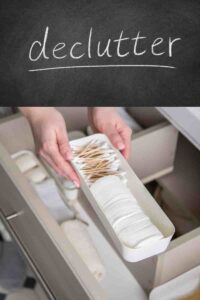 Declutter is one of my favorite chores at the first of a new year. A new year stirs up the cleaning bug within my heart.  I want to start the year right – with a new calendar, a decluttered office, and a sense of control over at least something in my life. In January I like to ready, rearrange, and rediscover.
Readying
Don't you love the old phrase, "I am readying up the house?" This phrase comes from a blend of Scottish, Irish, and German slang and means to tidy and declutter a space.  Readying our surroundings involve decluttering, cleaning, and straighten up what is left behind from the previous year or season. In early winter I tackle cupboards, drawers, closets, and shelves. Those inside jobs that often get neglected. I take things to be recycled or donated.
Rearrange
Next, I rearrange those cupboards, drawers, and shelves once they are cleaned and put them into order. One big project I just completed was reorganizing all my bookshelves in my home office. Ugh! My books multiply by themselves creating a constant need for more book shelf space.
Rediscover
Then I rediscover new treasures. I find books I want to reread. Forgotten books. Ideas on Post-it notes hidden in a drawer. A lost memory or keepsake that warms my heart. To declutter leads to reorganize.
Readying, rearranging, and rediscovering are good spiritual practices too.
Readying
What in your soul is old, out of date, and past its prime? What needs to be decluttered in your heart? What blocks God's voice from entering in? Is there a bad habit that needs to be surrendered to the Lord?
For me, I am readying up the nook where I spend time with God for my morning devotions and deeper reading. I know the bad habit of rushing my morning time with God dominated my schedule these last few months. Time to toss that one out! I am slowing down and spending more time with God in 2023.
Rearrange
What in your life needs reordered? Your priorities? Your hobbies? How you spend your time?
I look at my calendar. Big events and trips are clearly marked. One practice I always do is take an annual  silent retreat.  I start a list of potential times and places and pencil them into the schedule to hold their place. I talk with God about what writing priorities to work on in the new year.
Rediscover
What exciting treasures will you rediscover through this reflection?
I brought over to my prayer chair some of those books I want to reread in the new year.  One book reminded me I wanted to study the writer Evelyn Underhill in 2023 so I began to gather her books and articles to have for easy reference. She will be my first Lamplighter this year.
I updated my prayer list for next year too and tucked it into my Bible. Throughout the year I will add new names as needs come and go.
And most important I ask God to help me see what I need to let go of. What takes me away from God? Then I try to arrange my surroundings to support what draws me closer to God.
As we head into 2023, may we all ready our hearts, rearrange our lives, and rediscover God's presence in all our ordinary and extraordinary moments. Blessings on your new year!
What are  you  readying, rearranging and rediscovering in January?