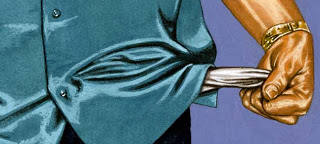 Letting go and surrendering to God is difficult, especially for people like me who have a strong urge to remain in control. Not only do I have control issues, but also throughout my life I have leaned heavily and even been proud of my independence.
"No I don't need any help."
"I can do it myself."
"I can do it all."
One prayer practice that has helped me yield my ego to God is using my imagination:
I place into God's hands whatever circumstance is troubling me. I give Him my concerns and fears. I visualize placing those I pray for into His loving care.
Not that this isn't always easy. I reach out with shaking hands, open them slowly, and, to be honest, with great hesitation, let go. And not only once, but over and over again, giving God everything in prayer.
Hard lesson to learn.
But the other day, God stretched me even further.
I heard Him whisper, "Empty your pockets."
Like watching a movie, I reached into my pants pockets, turning them inside out and spilling the hidden contents – long ago but still raw hurt feelings, unresolved painful matters about family members, and left over issues stamped "someday I will work on these."
God wanted me to surrender everything. Foolishly I thought I had with my little imaginary trick.
God invited me to dig deeper and give up my hidden unspoken brokenness into His hands for healing. I thought the first step was hard; this move is downright terrifying.
But I trust God. He promises to be with me, continually molding me into the child He created me to be.
With God's grace and help: 
I will let go.
I will reach deep.
I will empty my pockets.
What prayer practice do you use to draw you closer to God?