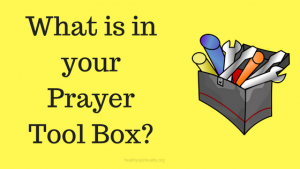 The last few weeks we've been exploring various tools for your prayer tool box. I shared a list of analog tools ideas and methods last Thursday and today let's dive into the digital world.
This month on Healthy Spirituality as we honor 2018 being the Year of Prayer we are looking at different tools we can use in prayer. Each month this year on the Tending the Holy Thursdays there will be a focus on an aspect of prayer. On my Thursday posts, I pick one theme (or person of faith) to explore deeper. I call this series Tending the Holy Thursdays.
What digital methods help to slow you down and enter God's presence?
Digital Prayer Tools
To compile this list, I checked my phone and computer first for the apps I use on a regular basis. Here are some of my favorites plus ones I discovered while researching this topic.  By the way, many of the link below connect to the I-Tunes store since I am an apple user, but most of the list the apps are also available for Android.
Echo – On my computer I use ECHO  and receive two daily reminders for specific prayers from my list. Echo lets you keep a list of every single one of your prayers. You can add as many prayers as you want, organize them into groups, delete old prayers, and even mark prayers as answered so you can see how God is working and remember to thank Him.
I use IFTTT – If This, Then That – a fun app. So If it is 12:30, send me a text to say – remember to pause and pray.
Pinterest – Enter prayer idea into the search bar and explore away! You will discover a mix of digital and analog ideas here.
Centering Prayer – This is my favorite for a quiet time with God. You can set different tones to enter and end your time of prayer and decide/change the length of time. I have enjoyed their selection of opening and closing prayers too.
Insight Timer – A different timer I rarely use since I enjoyed the Centering Prayer one more but this has some meditations and other types of selections you may enjoy.
Blogs/Faith-related newsletters/podcasts – So many, right? I hestitate to even begin giving you a list but will share a few of my favorites.
For ideas for Christian podcasts check out https://faithplay.com//.  Podcasts I am enjoying currently are:
The Next Right Thing with Emily P Freeman,
5 Word Prayers Daily with Lisa Whittle,
God in All Things,
Renovare,
Unhurried Living
Strengthening the Soul of your Leadership with Ruth Haley Barton.
Some of my favorite blogs are:
Oooo I know I am leaving too many off this list so will quit – I love reading and following other Christian bloggers and podcasters.
Sacred Space –  provide daily prayer prompts
Other Social Media such as Facebook, You tube, Instagram, Twitter often and with reason receive scorn and contempt. There is a lot of junk and unnecessary ugliness on these platforms. BUT there are also great connections and resources you can find to feed your faith. I also think of it as the wild, wild west and want to part of the positive self-expression there too with witnessing for God.
Reminders on the smart phones – I have had fun setting up reminders on my smartphone to think about God. Hearing the simple chirp every day at 12:30 helps me pause and pray. It beeps again at 2:00 to prompt me to say thank you.
The Daily Office prompts can be found on apps such as the Daily Prayer app – The official prayer app from the Church of England that gives a complete liturgy and services for morning, evening and night time prayer.
Blue Letter Bible and Biblegateway  are wonderful resources.
The Pray! app lets you set reminders to notify you of prayer requests. This is a go-to app to set reminders to pray for someone during their surgery, interview, or at any specific time of day. A small banner buzzes at the top of your screen reminding you to lift up others.
Prayer Prompter app. If you are one to get distracted or lose focus while praying, Prayer Prompter is the application for you. It prompts topics to pray about (worship, adoration, for your spouse, for yourself, etc.). It gives you passage suggestions to read through and pray back to God. All the translations are in NKJV, but you can add your own (a passage that spoke to you, a specific prayer you want to be reminded of).
Ora. This is an app that connects you with people in your contact list. It can be used to share prayer requests to individuals or private groups. In Ora, you need to be connected to someone via a request to see or share prayers. Instead of seeing a list of global prayer requests, you will only see requests of those people in your circles.
PrayerMate – How many times have we told someone we'd pray for them, and then forget to follow through? This Christian app helps you keep track of prayer requests and faithfully pray for the people and causes you care about. (recommended by Tim Challies)
Their website states that they bring all your prayer points together. Whether it's your personal prayer points for friends and family, regular updates from some fantastic mission organizations, or the latest PDF prayer letter that just arrived in your inbox, PrayerMate puts it all together in one place and helps you get on and pray. Interesting article by Tim Challis about this app: https://www.challies.com/resources/how-an-app-revitalized-my-prayer-life/
Abide –  offers daily meditations.
Operation World:    Interesting site where you receive daily prayer reminders for a different country or need somewhere in the world. Through your prayers, you will change lives and nations.
Daily Devotion is an app that provides you with daily devotions; a new one each day. If you have more time to spare, you could listen to the most recent devotions on the broadcast. You could view the devotions by sorting them into categories and also have the feature to share them on Facebook.
3-Minute Retreat, from Loyola Press, offers a daily three-minute retreat featuring soothing music, Scripture verses, and reflective thoughts and questions.  I really am enjoying this website.
Olive Tree provides an app as a resource for Bible study:
Our Daily Bread is a devotional app with daily readings.
Journal on your laptop, Ipad or phone with apps such as the Day One Journal. – a simple way to record prayer requests and reflections.
Got Questions answers faith-based questions.
IDisciple – I just discovered this app and it is loaded with devotions, prayers, music and inspiration.
Whew – I know there are many more out but isn't this quite a list?
I am thinking of compiling last week's analog list and this week's resources into one downloadable (free) PDF. Would you like that?
Should I compile these lists into one document? Would that help? And what digital resources do you use in your walk with God?  Let's add more to this list.