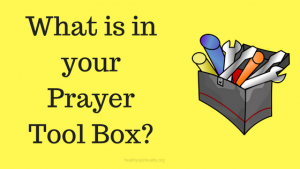 What type of analog or non-digital prayer tools do you use?
This month on Healthy Spirituality as we honor 2018 being the Year of Prayer we are exploring different tools we can use in prayer. Last week I introduced the image of a prayer tool box. This week ideas that are more analog based will be shared and next week we will dig into some digital ones.
Each month this year on the Tending the Holy Thursdays there will be a focus on an aspect of prayer. On my Thursday posts, I pick one theme (or person of faith) to explore deeper. I call this series Tending the Holy Thursdays.
What non-digital methods help to slow you down and enter God's presence?
Analog Prayer Tools
We live in a world full of beeps, chirps, and apps. "There's an app for that" is quite a true statement.
While I love the convenience of digital tools and I will next week share some I have discovered and use in prayer, I find a balance of tactile and unhurried approaches is also necessary.
Analog prayer tools slow us down. They ground us because we use our hands and senses more deeply that tapping an icon on a phone or clicking the mouse. There is an intimacy to this interaction with analog tools.
Analog Prayer Tools Examples
Once I began compiling a list of examples of analog prayer tools, I was amazed how many I did use. Here is just a sampling:
Sticky Notes – I love all the sizes and colors and use them for special prayers for a short period of time – helps remind me to pray. I stick them on my computer, mirror, and desk lamp.  I have never color-coded my prayers but that is an idea. Yellow –illness, Blue – peace, Green – the world, etc.
Prayer Journal – I write my prayers out in my journal all the time. I also record in my journal prayers written by others that resonate within my spirit.
Prayer List – Each year I type of a list of names/situations to pray over. Over the course of the year, I scribble in new names, add notes and as people are healed one way or another cross off a few names. It is fun over the years to observe how this list evolves yet stays the same too.
Church Bulletin/newsletter – we list people within our church asking or needing prayers, I keep the bulletin and newsletter handy to lift them up during the week.
Days of the Week – Some people designate different groups of prayers by the day of the week.  Monday – family, Tuesday – the world/earth, Wednesday – those who serve etc.  You can establish this list any way you want or feels right to you.
Five Finger Prayer – I bet many of you know the Five Finger prayer:
When you fold your hands, the thumb is nearest you, so begin by praying for those closest to you—your loved ones.
The index finger is the pointer. Pray for those who teach—Bible teachers and preachers, and those who teach children. The ones who guide us and point us to God.
The next finger is the tallest. It reminds us to pray for those in authority—national and local leaders, and a supervisor at work.
The fourth finger is usually the weakest. Pray for those who are in trouble or who are suffering or marginalized.
Then comes your little finger. It reminds us of our smallness in relation to God's greatness. Ask Him to supply your needs.
Finger Labyrinth – I love walking a full labyrinth. I wrote about them in this post. Here is my finger labyrinth that I use on retreats or when I feel the need to slow down and draw closer to God.  Read more about labyrinths here.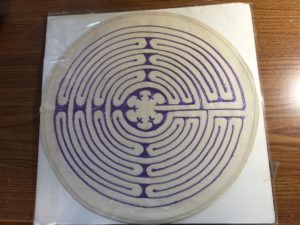 Green Military Men – we handed out these green men at church last Sunday to take home and put in a place to remind us to pray for those in the military and those who protect us. People put them on their tables and window sills so they see them often.

Triggers such as red lights, hearing sirens – Make a list of triggers to remind you to pray. When I see bird nests in winter I talk with God. See more triggers ideas here. 
Flash prayers – send prayers anonymously to houses you drive past, the people in the car stopped next to yours at a red light, or across the restaurant or church.
Praying the News – As I read the paper I lift up people and countries I am reading about. Each week our Sunday paper runs about 8-10 photos of people wanted for various crimes. I wondered if anyone ever prays for them, so I pause, ask God to bring good people around them, to warm their hearts with his Spirit, to clear their minds for good discernment, and to bring them closer to him. I say each of their names, lifting them into God's love. Pray for what is right before you – here is a post I wrote about this idea. 
Photography/Art – Taking my camera and snapping photographs of God's wonders always brings me to praise and thanksgiving. Even gardening and cooking can become prayer filled.
The Bible – Don't forget to pray the scriptures. The Bible is full of examples of prayers from individual's prayers to the whole book of Psalms.
ACTS – Adoration, Confession, Thanksgiving and Supplications
Written Prayer – The prayers written by others often say just what I am experiencing. I love collecting these prayers to help focus and name my fears and desires. Our church hymnal also has prayers for different times of the day and occasions.
Hymns – Take a hymn and instead of singing, say the words as a prayer. Try to read these words out loud for a different approach to praying.
Praying the Hours – Right now I am using Phyllis Tickles' The Divine Hours to pray three times a day.
Devotional books –  so many to choose from such as My Utmost for his Highest and Jesus Calling.
Music, candles, rituals and even the sounds of a bell – all set the mood for me to enter into a time of prayer.
Gathered prayer – When we pray together in a group or congregation, I hear how our voices blend together in a concerto of praise to our Lord.
I know even more ideas for analog prayers exist. Next Thursday I will share a list of digital tools to helps us draw closer to God.
Which prayer tool from this list works well for you or you would want to try?  What could you add to this list?.