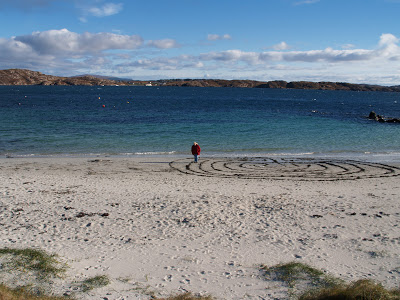 Walking the seaweed labyrinth on the Iona
About 15 years ago, just when I was beginning this new growth in my spirituality, walking a labyrinth appealed to me. A good friend drove me to a grassy one built on the back acreage of a retreat center, explained it to me, and invited me to enter in. That first step into its winding circle was also my initial step into my next phase of spiritual growth.
Based on the form of a circle and the spiral, this practice is an ancient and powerful symbol of wholeness and transformation. It is found in cultures throughout the world and has been added to many retreat centers as a form of walking prayer. Some of the earliest ones were found in Greece dating back to 2500-2000 BC.
The path becomes a metaphor for the spiritual journey.
The labyrinth is not a maze. Mazes have many paths and dead ends and they evoke a very different feeling than when we walk a labyrinth. A labyrinth is a unicursal with only one path in and the same path out.
Its path meanders its way to the center. Walking this path enables you to experience peace, listen deeply, and reflect on where are you in your life. Some find healing or new ways to celebrate. Occasionally nothing is experienced.
I wrote about my experience walking the seaweed labyrinth in Scotland on the Island of Iona last fall. You can read about it here on the post titled
Iona: A Thin Place.
I find entering the circle like stepping into the sacred. My mind is slowly quieted, I let go of concerns, fears and attachments, and deeper insights emerge. Once in the center I pause as long as needed to hear God in new ways. The return trip out refocuses me outward to my next step and how to serve others.
I have learned there is not a right or wrong way to experience a labyrinth. I let the Spirit be my guide. I seek out this form of spiritual practice when on retreat or going through a time of disquiet or confusion.
You will find different types, often at retreat centers or at churches.  One web site will help you locate one, 
Worldwide Labyrinth locator.
If you have walked a labyrinth, what was it like for you?