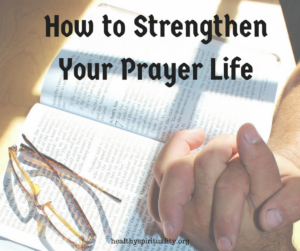 How to strengthen your prayer life continues to be one of the most frequently asked questions when I lead retreats, see the results of this blog's readers survey, and in my spiritual direction practice.  Prayer is a foundation for all healthy spirituality and most of us have a strong desire to be with God more deeply in prayer.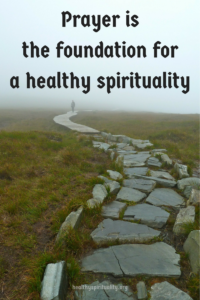 Exploring our prayer life and ways to strengthen and enhance how we prayer is this month's Tending the Holy Thursday series. Each month on my Thursday posts, I pick one theme (or person of faith) to explore.
Last week I wrote about the flow of prayer and invited you to be aware of how you pray and what draws you closer to God and what pulls you away from him.  I hope you did observe something in the flow of prayer throughout your day that strengthens your prayer life.
This week I am sharing 3 practical prayer habits – triggers, types, and time – to strengthen our prayer life. Next week we will explore some prayer tools that can help us and the last week I will share a story about a man of prayer and what he did in his longing for more constant prayer.
Each month I also include a free download to accompany the month's topic. This month I took a PDF I offered one time last year and expanded it to include new information.  "Prayer: 13 Ideas for Keeping Prayer Fresh" is available at no cost by clicking the button at the end of this post. I added ideas for prayer triggers and included a list of well-loved prayers from others, besides adding new resources. It is my hope and prayer that this series and the download will enhance your walk with God.
Be sure to sign up to get Healthy Spirituality in your inbox, so you don't miss any of the weeks (I promise I never over-send stuff to you). And invite your friends to this blog and share on social media.  I sure do appreciate the support in spreading God's word.

3 Practical Prayer Habits – Triggers, Types, and Time
Triggers
What reminds you to pray during the busy day?  Are there triggers to get your attention and nudge your heart to pause and smile at God?
My mama would say a pray whenever she heard a siren. She would ask for protection for those responding to the emergency. She would lift up whomever was in need – most of the time not knowing who they were or their circumstances. To this day, her prayer trigger is mine.
I included a large list of prayer triggers in the free PDF with this series, but here are a few to consider.
Talk to God when you:
Drink a glass of water
Put on your shoes
Wake up in the morning
See a rainbow
Listen to the news
Do the dishes
Open a book
Buckle your seatbelt
Hear the phone ring
Please share some of your prayer triggers in the comments below.
Types
Prayer can be simply talking with God. I think we complicate prayer too much at times. But exploring different types of prayer often helps us hear God better and deepens our time with him.
Some types of prayers I always return to for comfort and strength are:
Simple prayer – just talking with God in my own language and from my heart. Often I write these conversations in detail in my journal.
Breath Prayers – repeating comforting short phrases with each breath. Favorite ones include "Come, Lord Jesus" and "In you, o Lord, I put my trust."  I wrote a book about breath prayer, Whispers: Being with God in Breath Prayers if you want to explore this type of prayer deeper.
Praying the Ordinary – Thanking God for simple things – the smile of my grandkids, the sunshine or gentle rain, the taste of my morning coffee. Paying attention to the gifts of each moment.
Bible Prayers – the Bible offers wonderful prayers to pray as they are written or to use as a framework for your own words. One technique is the "Be Still and Know that I am God" phrase, repeating it slowly and dropping one word from the end each time so that last prayer is "be."
Intercessory prayer – What an honor and duty we have to pray for others. If someone spontaneously comes to mind, I lift their name up in prayer. I keep a prayer list of others by my Bible. If I wake up in the middle of the night and can't sleep – I pray for family and friends. Following the Bible prayers mentioned above, I take this verse from Romans 15: 13 and put a name into the blanks:
May the God of hope fill _______ with all joy and peace as ______ trusts in him, so that ______ may overflow with hope by the power of the Holy Spirit.
At times, I need a new type of prayer to refresh my time with God so am open to trying new ones. Lately I am drawn to longer contemplative prayer – often wordless, just being with God.
A great book full of different types of prayer is Richard Fosters' classic Prayer, Finding the Heart's True Home.  I pull this book from my shelf often when looking for a new idea or to refocus on prayer when I feel I am struggling in hearing God.
I have written about the power of questions here on this blog and so have been praying my questions with the Lord. The Powerful Possibilities of Pondering Questions offers different questions to explore and this post is an example of how I talk with God in prayer with questions
Time
Evening and morning and at noon I will pray, and cry aloud, And He shall hear my voice.
Psalm 55: 17

Time provides a wonderful framework for praying.
I love the old saying that some people wake up each morning and exclaim, "Good God, it's morning!"  and for others the first thing they think is "Good morning, God!"
I want to be in that second group. I stretch in the morning and before even getting out of bed thank God for a new day.
At noon, my phone chirps a reminder to say a word of thanks to the Lord. I will share that tool and more next week.
As I settle into bed at night, I review the day and thank God for the moments I noticed him – often I don't even "see" these times until I examine the day.
Many people follow the Daily Office or the Liturgy of the Day. Here is a good article explaining how this works. 
Time could also refer to the season you are experiencing. When my kids were younger and the house noisy and never still, time was quickly grasped in the shower or perhaps during nap time.  Now with an empty nest, I have the gift of quiet time most mornings and take advantage of this gift to spend deeper time with God.
Each season brings gifts to us. What is the gift of the season you are in right now when it comes to prayer?
Time can also distract you from prayer. I get lost down the rabbit trails of the internet and lose all track of time. I get involved in writing or researching a topic thinking the project will only take an hour when suddenly half the day is gone.  The anxiety of deadlines and obligations draw my attention away from God.
I am trying to learn the habit when I think about time to remember God controls time, I don't.

Three practical prayer habits that give us structure to support our prayers.
Last week the "homework" was to pay attention to the flow of prayer, this week I invite you to be aware of what habits keep you in the rhythm of prayer.
Don't forget I have an updated and expanded PDF "Prayer: 13 Ideas for Keeping Prayer Fresh" available free by clicking this button.
What are your prayer habits? What triggers you to prayer during the busy day?  Let's share some practical tips with one another.  I love those of you who leave comments regularly and would love a few more of you to join in the conversation.
P. S.  AN EXCITING ANNOUNCEMENT  
Looking for a new devotional for Lent?  My latest book, 40 Voices: A Lenten Devotional is now available on Amazon. I hope it blesses your journey by hearing the voices of the places and people in Jesus' last week on earth. And would love to have you leave a review on Amazon too if you read it.
This year Lent begins March 1 – Let's draw closer to God by digging deeper into Jesus' story between now and Easter.