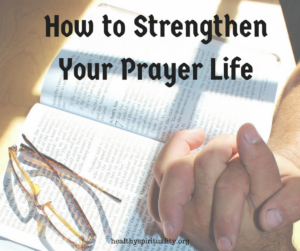 One of the most common answers shown in last fall's readers' survey was this concern: How to strengthen your prayer life.  Prayer is a foundation for all healthy spirituality and most of us have a strong desire to be with God more deeply in prayer.
Exploring our prayer life and ways to strengthen and enhance how we prayer is this month's Tending the Holy Thursday series. Each month on my Thursday posts, I pick one theme (or person of faith) to explore. Prayer became an obvious choice after reading the survey results.
Each month I also include a free download to accompany the month's topic. This month I took a PDF I offered one time last year and expanded it to include new information.  "Prayer: 13 Ideas for Keeping Prayer Fresh" is available at no cost by clicking the button at the end of this post. I added ideas for prayer triggers and included a list of well-loved prayers from others besides adding new resources. It is my hope and prayer that this series and the download will enhance your walk with God.
Be sure to sign up to get Healthy Spirituality in your inbox, so you don't miss any of the weeks (I promise I never over-send stuff to you). And invite your friends to this blog and share on social media.  I sure do appreciate the support in spreading God's word.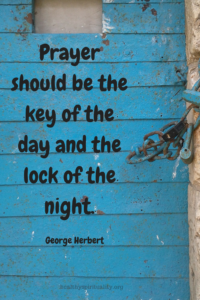 A Prayer Flow to Strengthen your Prayer Life
The river of prayer flows through our mind, heart, and spirit. Identifying the obstacles in each area, asking God to help us learn more about each, and then letting go and floating with God's refreshing living water all leads to strengthening our prayer life.
Strengthen your Prayer Life with your Mind
Let's think about prayer this month.  Write out in a journal or on a notepad, how you define prayer.
Too often we restrain prayer only to our mind. We were taught to say the Lord's Prayer. We ask God for what we need and desire, then rush off to the next items on our list. We read about prayer, we write about prayer, we talk about prayer, but we rarely pray.
Spend some time this month, thinking about when you pray, how you pray and what prayer means to your spiritual life.
For me, prayer is the key foundation for my relationship with God. Prayer is being with him, talking with him, listening to him. Prayer is communicating with God, worshiping him, and seeking his presence.
How important is prayer to you? When I think of all the various spiritual practices, prayer leads the list. With this top ranking, why do I so often neglect, rush and/or postpone prayer?
Pondering these questions begins to help my mind objectively consider prayer and intensifies my commitment to this practice. I become more aware of prayer, God's presence, and its impact on my entire life.
My mind has a place in prayer, but I know and long for more. I resolve to get out of my mind full of to-do's, worries, and distractions and to hit that pause button from only using my head and allowing my full attention to move in the current into my heart.
There is an old saying that prayer is the raising of the heart and mind to God. The mind too often takes over prayer with words, requests and questions.  All these elements are some of the ingredients in prayer, but for a rich full prayer life, more seasoning from the heart and the spirit is needed.

Strengthen your Prayer Life with your Heart
My spiritual director reminds me all the time, "Go deeper, Jeanie.  Quit thinking, sink into your heart."
Praying goes to the depth of our heart where we meet God often in silence.
As we talked last month about creating sacred space, worries, fears, and unnamed emotions jam our heart. Name those emotions taking room in your heart and give them to God.
What is your deepest heart desire? Can you articulate that longing? Writing in my journal about these deep feelings I uncover in my heart helps me find the treasures and blessings buried there.
Silence is another practice that allows my heart to commune with my mind and together they connect, communicate, and commune with God.
Strengthen your Prayer Life with your Spirit and The Spirit
Images enhance my praying and invite the Spirit to touch my spirit.
One of my favorite visuals is the feather.
"A feather on the breath of God," was Hildegard of Bingen's image of her life. I love this representation of how my spirit dances on the breath of God.
Spirit touching spirit.
Imagining a feather helps me enter this mysterious, majestic flow of prayer.
Usually my posts about spiritual practices are more practical and down to earth. This one seemed to take on a life of its own and I hope some of its words make sense to you and inspire you to wonder about how prayer flows within you.
This post's purpose is to invite you to think about how your pray and to be aware of your prayers. When do you pray? How do you pray? What triggers your prayer? How do they vary depending on the circumstance? What words do you use?  What do you call God?
Thinking and experience the flow of prayer throughout your life may help you identify what draws you closer to God and what pulls you away.
The next few weeks I plan to be more practical as we explore the rhythm of prayer, prayer triggers, and types of prayer. I hope to end the series with a story about how one man approached this practice with his consuming desire for unceasing prayer with God.
Don't forget I have an updated and expanded PDF "Prayer: 13 Ideas for Keeping Prayer Fresh" available free by clicking this button.
What about the flow of prayer through your life? What helps you experience prayer and how could you strengthen your prayer life?