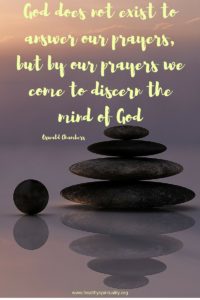 Discernment is the theme for April's Tending the Holy Thursday posts. This week I am including quotes to inspire you when pondering discernment and some resources to help you along the way. Next week I summarize the lessons we all can learn by living a discerning life.  May this deepening topic help you through those difficult transitions and just plain daily choices.
This is the third week to explore discernment. The first week we began with defining and exploring discernment and last week I shared tips and how-to's.
Quotes to Ponder about Discernment
Enjoy the following words of wisdom and feel free to share them on social media and/or Pinterest: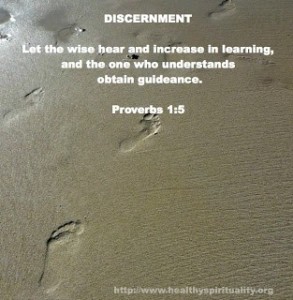 "It's funny: I always imagined when I was a kid that adults had some kind of inner toolbox full of shiny tools: the saw of discernment, the hammer of wisdom, the sandpaper of patience. But then when I grew up I found that life handed you these rusty bent old tools – friendships, prayer, conscience, honesty – and said 'do the best you can with these, they will have to do'. And mostly, against all odds, they do."
Anne Lamott
"God never gives us discernment in order that we may criticize, but that we may intercede."
Oswald Chambers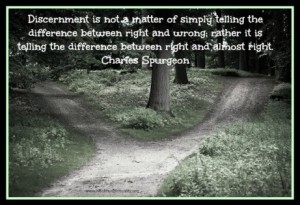 "Discernment is faithful living and listening to God's love and direction so that we can fulfill our individual calling and shared mission."
Henri Nouwen
"My choices, including those related to the day-to-day aspects of life, like the use of a modest car, are related to a spiritual discernment that responds to a need that arises from looking at things, at people, and from reading the signs of the times. Discernment in the Lord guides me in my way of governing."
Pope Francis

"Discernment in its fullness takes a practiced heart, fine-tuned to hear the word of God and the single-mindedness to follow that word in love. It is truly a gift from God, but not one dropped from the skies fully formed. It is a gift cultivated by a prayerful life and the search for self-knowledge."
Ernest Larkin
"The place where God calls you to is the place where your deep gladness and the world's deep hunger meet."
Frederick Buechner
Resources for Discernment
I found some intriguing videos about discernment:
Discernment for Dummies. Interesting overview about discernment.
What is Discernment?:
Good Internet Sites:
Ignition spirituality.  http://www.ignatianspirituality.com/making-good-decisions/discernment-of-spirits
Article on Pathos:  http://www.patheos.com/blogs/spiritualdirection101/2012/07/a-step-by-step-discernment-process/
Ways to practice discernment:  http://www.practicingourfaith.org/discernment-ways-practice-ideas
Books to check out:
Hearing with the Heart – Debra Farrington
The Way of Discernment: Spiritual Practices for Decision Making  – Elizabeth Liebert
The Discernment of Spirits: An Ignatian Guide for Everyday Living by Timothy M. Gallagher
Faithful Listening: Discernment in Everyday Life by Joan Mueller
And don't forget to download this month's resource – "21 Questions to Help with Discernment."  It is free and please note you may get a message that you are already subscribed – just ignore that – the download will come quickly to your inbox. Sorry for the confusion – Don't you just "love" tech imps.  HA!
 Click Here to Get the "21 Questions to Help with Discernment" Free Report
What have you read lately to share with us about discernment? Any good books not mentioned here?