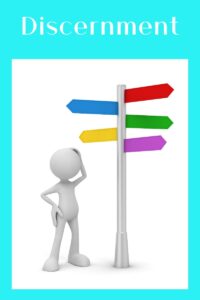 I have been revisiting my bookshelf this summer and decided to make this a series in the month of August. Each week I will rediscover an old friend, reread its wisdom and share a title, its theme, a few quotes, and a small reflection/application.
When I slowly took the books from the shelf it felt like I was holding treasure. I can't help to think that wisdom in these pages call to me for this particular time. And the excitement of possibilities!
"A truly great book should be read in youth, again in maturity and once more in old age, as a fine building should be seen by morning light, at noon and by moonlight." – Robertson Davies
Hearing with the Heart – Debra Farrington
Discernment is an essential spiritual practice for all of us.  Hearing with the Heart was one of the first books I read about discernment and still continues today to be a resource of wisdom and guidance.
"To discern means more than to understand or to make a decision, Discern comes from the Latin discernere: dis mean apart and cernere mean to separate. Thus from all the options before us, we "separate apart" those that seem uniquely suited to us. We do that when making a decision as well, but discernment at least in Christian spirituality, implies that we take God's will for us into account rather than simply our own desires."
This is a beautiful book full of quotes, practices, stories, and inspirational guideposts for our spiritual walks. She takes us on long walks about prayer, listening, silence, openness, reflection, and paying attention – all key disciplines we use and continue to learn more about each day. She includes insightful guidance in the characteristics of our soul friends.
The second part of the book addressing when we are facing a major crossroad. Sometimes we know what God is calling us to do and we just need the courage to take that first step. But often we find ourselves torn between options, not sure, and full of doubt. She provides clear questions to explore at this time, including clarifying what really is the question we are asking. Wise advice for all the various times of discernment.
This book stressed the importance of making decisions from the heart, not from fear or scarcity. Discernment from a place of love, not from a sense of being lost or confused. To pause, listen, seek and wisdom will come along side of us to discern our next steps.
Revisiting this book reminded me of renewing a relationship with a friend I hadn't seen for a while. Turning each page was a new discovery of a phrase, a reminder of a practice, a great quote that resonated in my heart. I'll end with one of the prayers:
"Give us, O Lord, a steadfast heart, which no unworthy affection may drag downwards; give us an unconquered heart, which no tribulation can wear out; give us an upright heart, which no unworthy purpose may tempt aside. Bestow upon us also, O Lord our God, understanding to know you, diligence to seek you, wisdom to find you, and a faithfulness that may finally embrace you; through Jesus Christ our Lord." Thomas Aquinas
What practices help you in discernment? What books are you rereading?