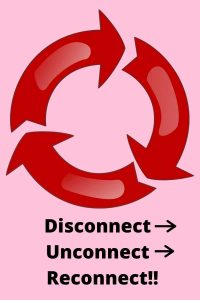 Reconnect shattered the shell of my heart this past week.
We all have been disconnected from loved ones, routines, work, church, and community as we used to know it.
We have been living in cocoons, unconnected except for online chats, Facetime, and endless Zoom meetings. I am zoomhausted!
At last, a sunny warm day in northwest Ohio graced our lives and I emerged like a mama bear after a long cold winter of hibernation.  I stretched.  Put on my favorite walking shoes. And hubby and I ventured along the one-mile trek surrounding our little village. 
Reconnect
I love to walk and to finally journey outside felt like Christmas morning. Yet remember my image above – the mama bear – yep I was groggy, sluggish, and bit disoriented. I hungered for movement and focused on each step, stretching stale muscles.  Off we went.
Our route took us past Edon's famous Dairy Treat, a locally owned and loved throughout the region for treats and a quick dinner. They just recently reopened and that plus the great weather brought out the crowds.  Cars lined up down the street and filled up the adjacent church parking lot. People waited in lines, yet at proper social distancing, eager for something sweet to celebrate our freedom from our caves of isolation.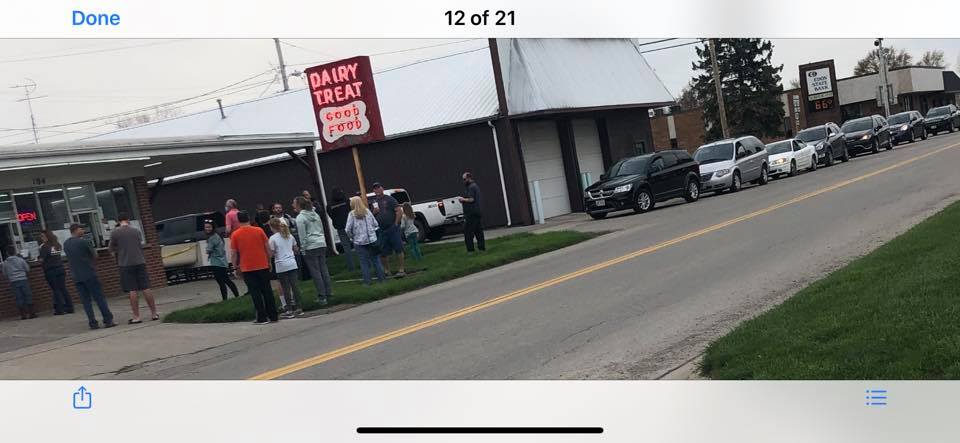 As we marched by on our determined mission to get our walking complete, a friend rolled down her window and yelled her hello. Her smile beckoned us closer and she too hungry for interaction waved us closer.
Now comes what I regret.
We waved.
We smiled.
We countered with a obligatory hello back to her.
We kept walking.
Guilt descended onto my spirit.
I should have stopped.
I could have stayed the required 6 feet away and visited for a while.
Under normal circumstances I would have connected with her for a friendly lifegiving visit.
The should's, could's and would's shamed my spirit.
What was wrong with me?
I have learned on my spiritual walk to pay attention whenever anything – a good feeling or like this, an uncomfortable jarring experience, reverberates in my soul.
I have learned to let go of the emotion of anger, embarrassment and shame and pick up the tool of curiosity.
I wondered why I reacted that way. 
Mama bears wake up sluggishly. A butterfly evolves from its cocoon gently. My introverted self, disconnected from the outside world for seven-plus weeks, needed time to connect. I hadn't realized I required more space for reconnection.
Some people – extroverts? – love to jump right into the pool with a big splash and the glee of reentering the fun.
Others, like me, like to dip our toes in first, sit on the edge dangling our legs, then slowly and deliberately rejoining humanity.
A hard lesson for me to learn. Perhaps you feel this way too. But it is time.
American society is reopening. I think it is ironic many states announced their plans described in phases. I now know I need phases too to connect in community. Here is how this mama bear introvert plans to reconnect safely for her soul:
Gradual – Getting out of this rut will take time and my intention is to connect but at a pace that feels right for my spirit.
Grace – I will give myself grace – don't feel guilty for feeling like I snubbed my friend at the Dairy treat parking lot. I will fail but I will try again. And I will give grace to others – we are all transitioning from one odd place to a strange new territory – all of us will experience some disorientation with this reconnect. Grace, not guilt.
Gratitude – I am thankful for this lesson and all we can learn even from the difficult and awkward interactions.
Grow – I will learn. I will relearn. I will emerge. I will wake up into the new world. I read the other day this statement – "May we grow back, not to what was but instead towards what we can become."   I like that – let's BECOME as we connect again.
Grand – it will be grand. We can't always choose what happens to us. This collective experience and disruptions weren't something we asked for, desired, and controlled. Yet we can choose our attitude. I chose to look forward to life being grand again. Life is grand right now.  I just need to open my eyes to see the goodness, listen to its lessons, and receive in my heart its joy.
Disconnect. Unconnect. Reconnect. A growth edge for all butterflies and mama bears.
Have you considered how you will reenter into the community from this forced disconnection? What will help you to reconnect?