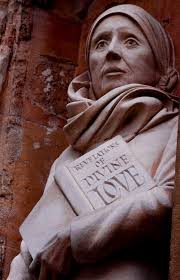 I
posted a quote by Julian of Norwich
a few weeks ago and several readers commented that they didn't know her or much about her. I have invited her here today so we could get to know her better.
One odd thing about Julian is that we really don't know her name for sure. What we know about her is gleaned from her book
, "Sixteen Revelations of Divine Love,"
the first book written in English by a woman. She is referred to by the name of Dame Julian by
Margery Kempe
referring to the church, St. Julian's in Norwich.
She was born in 1342 during the time of the Black Death and lived until 1412. This was a very unpleasant age to live in England. The black death or plague led to very bad social conditions and the oppression of the poor. There was a shortage of labor, high taxes and bad harvests, prices were soaring and unrest.
When she was thirty years old, she became gravely ill and most thought she would die. But on the seventh day the medical crisis passed and she saw a series of fifteen visions, or "showings," in which she was led to contemplate the Passion of Christ. These brought her great peace and joy.
Over the course of some twenty years, Julian reflected on the meaning of her visions and wrote down an account of this. Her book, which tells about these showings, is a tender meditation on God's eternal and all-embracing love, as expressed to us in the Passion of Christ.
She describes seeing God holding a tiny thing in his hand, like a small brown nut, which seemed so fragile and insignificant that she wondered why it did not crumble before her eyes. She understood that the thing was the entire created universe, which is as nothing compared to its Creator, and she was told, "God made it, God loves it, God keeps it."
Julian was an anchoress, living in a small hut near to the church in Norwich, where she devoted the rest of her life to prayer and contemplation of the meaning of her visions. An anchoress was a person called to a solitary life, but one that was not cut-off from the world, but one anchored in it.
In the 13th century cells of an anchoress had three windows that opened, one into the church, so she could hear Mass and receive communion, one to communicate with her servant, who would have lived close at hand and would have been responsible for the chores, and one to give advice to those who sought it. During her lifetime, she became known as a counselor, whose advice combined spiritual insight with common sense, and many persons came to speak with her.
All Julian had in the cell was a crucifix, a hard bed and a small altar. Her clothes would have been plain consisting of a kirtle with a mantle, black head-dress, wimple, cape or veil.
Julian's insights into the nature of God and the human condition were ahead of her time. The medieval church focused on sin and punishment but Julian knew God who held only love, not anger for his children. Likewise, in contrast to the patriarchal language and concepts of the established church, she saw God not only as an all-powerful and mighty Father, but also as a tender loving Mother.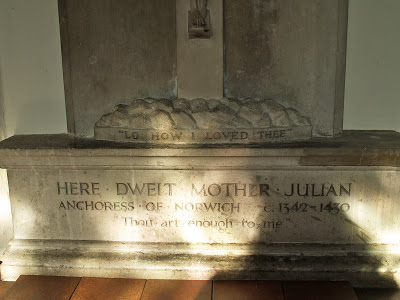 Last fall on our trip to England and Scotland we stopped in Norwich to visit her cell and cathedral. Suddenly everyone else left the room, I sat alone for ten minutes with Julian. Her presence was powerful, intimate, loving and one I will never forget.


Here are some of my favorite quotes from Julian:
"All shall be well, and all shall be well and all manner of thing shall be well."
"God loved us before he made us; and his love has never diminished and never shall."
"God, of thy goodness, give me Thyself;
for Thou art enough for me,
and I can ask for nothing less
that can be full honor to Thee.
And if I ask anything that is less,
for only in Thee have I all."
"Truth sees God, and wisdom contemplates God, and from these two comes a third, a holy and wonderful delight in God, who is love."
What is the Lord's meaning was a question Julian pondered  most of her life. Toward the end of her journey she wrote,
"What, do you wish to know your Lord's meaning in this thing?
 Know it well, love was his meaning.  
Who reveals it to you? Love.
What did he reveal to you? Love.
Why does he reveal it to you? For love.
 So I was taught that love is our Lord's meaning.
 And I saw very certainly in this and in everything that before God made us he loved us, which love was never abated and never will be."
I love reading about the medieval mystics. They loved God and knew God in ways foreign to us today and I think their words hold insight for us. I encourage you to explore Julian more.
Is there someone in Christian history that resonates with your spiritual walk?