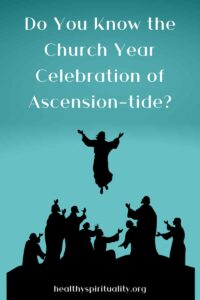 Ascension-tide? Ever hear of it?
The church year calendar is full of wonderful opportunities for us to learn more about God, to open our hearts to new perspectives, and to grow spiritually.
Ascension-tide is the ten days tucked between the Ascension of our Lord into heaven until the Day of Pentecost. This year Ascension-tide starts May 26 and goes until Pentecost, June 5th.
This feast doesn't get much attention. No store décor. No special food. No days off. No jingles or hymns to sing.
Ascension-tide is the season when we remember that the disciples let go of Jesus so that he can be always present to all people. Jesus was gone and the Holy Spirit hadn't been sent yet. These ten days became a time of waiting and longing for God.
I wonder what the followers of Christ did and felt during the 10 days after they witnessed Jesus' ascension into heaven and before the arrival of the Holy Spirit on Pentecost. Did they struggle with doubts? Did they wait impatiently? I imagine they may have argued and debated on when and what they should do next.
Wouldn't you have loved being a bug on the wall (well, maybe not a bug, ha!) listening to their discussion and their prayers?
Waiting is difficult. Waiting when we aren't sure what will happen is even harder. In-between times are tough. Yet the wait was/is worth it.
I think the lessons of Ascension-tide are to remind us that in life we will walk through time of waiting, maybe even experience an absence of God's presence, and live with doubts and overwhelming sense of powerlessness.  We can honestly admit this to God and share our feelings with him. This is part of human life and he understands, accepts, and loves us unconditionally anyway.
How can we honor Ascension-tide? What can we learn in our in-between times? How do we thrive in uncertainty and the life's brokenness?
Prayer
Patience
Embracing God's promises
Trusting all our concerns, fears, indecisions into God's hands, God's timing.
Challenging disciplines, but ones we can put into practice daily, moment to moment. Faith, not fear. Trust, not trepidation. Hope not despair.
I plan to "listen" to Ascension-tide this year. Pay attention to its lessons. Its invitation to learn and be shaped by God's calendar.
How about you? What do you think of Ascension-tide?
PS. My hubby and I will be traveling next week so I won't have a new blog post then but will return in June. Thanks for giving me grace in taking a week off.