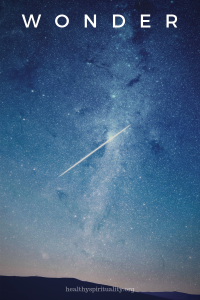 I am wondering about wonder. This word is one of my three WWW's I am exploring in 2019.  I introduced this theme last month and will periodically write about each of the W's throughout the year.
WWW stands for wisdom, wonder, and whimsey. I felt God inviting me into these three words several years ago and been thinking of studying them deeper, possibly expanding them into a book(s). Why not start that journey with you all here on the blog to see if there is interest, enough "legs" to become book-worthy and to expand my own insight into these themes?
I am starting my WWW journey with this word since Socrates wisely advised us that "wonder is the beginning of wisdom."
What is Wonder?
A definition is always a good place to start. Wonder can be both a noun and a verb.
The dictionary states that to wonder is "to think or speculate curiously or to be filled with admiration, amazement, or awe; marvel."  As a noun, it can be "something strange and surprising; a cause of surprise, astonishment, or admiration."
Psychology Today describes this state as "a complex emotion involving elements of surprise, curiosity, contemplation, and joy. It is perhaps best defined as a heightened state of consciousness and emotion brought about by something singularly beautiful, rare, or unexpected—that is, by a marvel. 'Marvel' derives from the Latin mirabilia ('wonderful things'), and ultimately from the Latin mirus ('wonderful'). 'Admire' shares the same root as 'marvel' and originally meant 'to wonder at.'"
Anne Lamott describes this concept as something that "takes our breath away and makes room for a new breath. That's why they call it breathtaking."
David James Duncan writes "maybe wonder isn't something we grab, but rather something that grabs us. And once we're grabbed, we lose the ability to remain unchanged. The capacity to be surprised bleeds into the capacity to be transformed."
Frederic and Mary Ann Brussat describe this practice as one that "begins in the senses, comes alive in the imagination, and flourishes in adoration of the Divine. It arises from our natural curiosity about the grand adventure of life. It increases our capacity to be a bold inner space tripper and an avid explorer of the physical world."
A Sense of Wonder
Take a moment to enjoy this video.  I love his passion and excitement inspiring us to explore this W. The photos of the young kids immersed in wonder are wonderful – pardon my play on words.
Breath in his closing statement that we "must nonetheless strive to reenter these spaces because these are the only spaces that have ever led to visions that have transformed the world."
Words of Wonder
As I unpack this first step,  keywords emerge:
Senses
Awe
Curiosity
Amazement
Marvel
Childlike
Surprise
Breathtaking
Beauty
Unexpected
This is just the first tiny step into wondering about wonder. Hope you come along on this wonder-filled journey with me.
What do you think? What words or definitions would you add?  How does the practice affect your relationship with God?