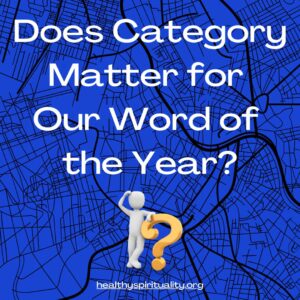 What category or part of speech is your word of the year? Does it even matter? Every word can be categorized as a part of speech based on its function. Does this affect our relationship with our words?
My word for 2022 is ALL. This word draws me into deeper surrender with God as he is my all in all and I want to give him my all. All in all ways always.
All is a quiet word. A gentle word. A sense of yielding.
Last year's word – GO – meant action, movement, energy.
Go is a verb. All is a noun, pronoun, or adverb.  I really liked GO and all that I learned from its lively vitality. What a great word category.
I never realized before how the part of speech of my annual word impacts how it feels to my heart. How words play with our mind and our perspectives. I confess that I miss the excitement, zest, and zip that Go brought into my life.
But perhaps my heart is yearning for a different adventure in this season of my life. Less do and more be. Less me and more God. Less action and more stillness. Less accomplishment and more openness to receive, to become, to relinquish.
A time to allow a new word to sink its roots deeper into my soul. Moments to listen to All's heartbeat allowing my heart to sync to its slower wise rhythm.
Choosing a word of the year is a powerful spiritual practice.  One that draws us closer to God if we allow its meaning to shape our soul.
Knowing how the different categories or parts of speech of our words brings us rich insights as it settles into our lives.
Have you noticed how the category or part of speech of your word impacts your relationship with its transformation within you?  What lessons did that realization reveal?