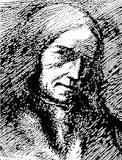 Me neither.
I read a quote from him the other day that struck me and made me curious abut him. Who was he?
Here is the quote:
"God is essentially present with us in a manner that is incomprehensive to us.
He fills heaven an earth; in him we live, move and have our being.
He is also near our most secret thoughts, inclinations, desires and intentions."
Edward Hays in his
"Book of Wonders"
  pondered this quote and gives God the name, "
My Easily Forgotten Companion
."  Now that is something to think about.
That isn't what I call God, but in reality how I treat Him. I conveniently forget God. I ignore His urges and commandments. I turn my attention away from His Presence that never leaves my side.
"You must withdraw into yourself a little and keep quiet before the face of God, then look gently and perfectly frankly at God who is so near to us, to let Him see if there is anything in us or near us which must be handed over, and assure Him of our hearty consent to give up everything to Him."
Gerhard Tersteegen
Gerhard Tersteegen lived from 1697 to 1769 in Prussia, later Germany. He was apprenticed to a merchant, before taking up weaving, an occupation that allowed him more time for his devotional studies and hymn writing.
A neighboring godly tradesman taught him that he could know Christ in daily life, and Tersteegen vowed to devote his life to God. Unable to find time for devotions during the day, he spent entire nights fasting and praying.
He was only twenty when a deep depression closed around him. For five years he had no impression of God and even began to doubt His existence. Yet he wrote hymns of faith and continued to seek God. One day God drew so close to Tersteegen that the sorrowing man knew absolute peace and from that time his life was never the same.
He moved into an isolated cottage to spend time with God. Later people began to come to him for spiritual guidance. Thousands came to Tersteegen for spiritual counsel, many traveling great distances, and sometimes waiting for hours in order to hear his words for a few minutes.
He published more than 100 hymns, in addition to his poetry and books. His hymns were so popular, they were sung at weddings, social gatherings, and even spoken as greetings.
I never heard of Gerhard Tersteegen before, but what a witness to faith.
Lessons
After reading about his thirst and love of God, I found many lessons:
·   Who was this godly tradesman that nurtured his faith? Others watch our behavior as Christian all the time.  We never really know who is learning from us and our from our actions (or lack of actions) and our words.
·   Once again I am amazed at the power of the written and spoken word.  Whether it is just between friends, in a blog or book or in a more formal presentation. We can change lives through the Word and by His word.
·   How often do I treat God as my Easily Forgotten Companion?  Too often I fear. Less often I hope.
·   God is always with us even when we can't feel or hear Him.
Here is a verse from one of his hymns: Thou Hidden Love of God
Thou hidden love of God, whose height,
Whose depth unfathom'd no man knows,
I see from far thy beauteous light,
Inly I sigh for thy repose;
My heart is pain'd, nor can it be
At rest, till it finds rest in thee.
'Tis mercy all, that thou hast brought
My mind to seek her peace in thee;
Yet while I seek, but find thee not,
No peace my wand'ring soul shall see;
O when shall all my wand'rings end,
And all my steps to thee-ward tend!
O hide this self from me, that I
No more, but Christ in me may live;
My vile affections crucify,
Nor let one darling lust survive;
In all things nothing may I see,
Nothing desire or seek but thee.
O Love, thy sov'reign aid impart,
To save me from low-thoughted care:
Chase this self-will thro' all my heart,
Thro' all its latent mazes there:
Make me thy duteous child, that I
Ceaseless may Abba, Father, cry!
Each moment draw from earth away
My heart that lowly waits thy call:
Speak to my inmost soul, and say,
I am thy love, thy God, thy all!
To feel thy power, to hear thy voice,
To taste thy love, be all my choice.
Lessons from a man whose name history has forgotten, but whose faith continues to shine for us today.