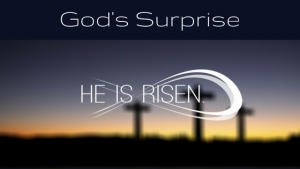 God's surprises! He loves to give to us more than we ask for, beyond our meager human imagination. He lavishes us with love and delights to shower and dazzle us with his favor.
Personally, I don't like surprises. I like to know, to control what is happening, to be prepared ahead of time. But I am learning that what I expect is narrow, limited and small. God's expectations reach beyond, is always More, and sweeping and spacious.
I have to remind myself surprises are also fun, so it comes down to my ego and the misperception that I have some control over life. Life can be crazy, so knowing we have a God who loves us and enjoys surprising us with his goodness gives me hope, strength, and encouragement. God is in control and something good will emerge from every situation.
I am slowly learning to watch for God's surprises and take delight in them.
God's Surprises are Not New
The Bible overflows with God's dazzling unanticipated moments.  George Herbert wrote, "Bibles laid open, millions of surprises."
When God created the heavens and the earth, I bet the angels gasped in wonder and amazement. They certainly sang. They were surprised once again when the Lord himself walked upon earth, looking for his loved created beings, then clothed them, forgave them, and guided them into their future.
God shocked Moses by calling him to lead his people to their new home.
Sarah laughed when God decided to grant her prayer to have a child, long after she ever believed it was possible.
Elijah discovered God's wonder, not in the crashing roar of a storm or earthquake, but in a whisper.
The angel visited Mary, startling her with the news that she would give birth to the Son of God.
The angels sang again when Jesus was born.
The disciples were amazed seeing Jesus heal and walk on water.
In his wildest dreams, Saul never expected to experience Jesus on that Damascus Road.
The world fell apart for his friends, when Jesus was arrested, beaten, crucified. Don't you wonder what the disciples, followers and his mama felt the time from the dark day of Friday until Sunday morning? Did they cry and grieve? Could they even talk and find the words? Did they try to sleep or eat? We all have had times like these – when all seems empty, hopeless and terminal.
But God surprised the world Easter morning – "all" wasn't empty, the tomb was.  Hope and new life rushed into the hearts. Jesus lives!
 The Timing of God's Surprises
God arrives anytime he chooses and often unannounced and unforeseen. God's timing is perfect.  He knows exactly when to give us a booster shot of his love and compassion.
God's surprises heal with a loving tenderness, especially in the times we are most vulnerable. When I realize I can't do it, I have nothing left – God comes to where I am, in my greatest need. He meets me in my weakness, takes me in his arms with astonishing love and mercy.
When we are out of options, we are most ready for God's surprises.
Max Lucado
This Sunday is Easter – God's Biggest Surprise of All, For All
One of God's grandest surprise was Easter morning.
The tomb was empty.
Jesus rose from the dead and lives.
No more death.
Each day holds a surprise. But only if we expect it can we see, hear, or feel it when it comes to us.
Let's not be afraid to receive each day's surprise, whether it comes to us as sorrow or as joy.
It will open a new place in our hearts, a place where we can welcome new friends
and celebrate more fully our shared humanity.
Henri Nouwen
Easter is not a one time event. We walk with the resurrected Christ in moments of prayer when we hear our name as Mary Magdalene did in the garden.  When we touch his heart as Thomas touched his wounds. When we walk on that lonely road to Emmaus and see him in the breaking of the bread and feel our hearts burn with awakening.
Let us ask ourselves today: Are we open to "God's surprises"? Or are we closed and fearful before the newness of the Holy Spirit? Do we have the courage to strike out along the new paths which God's newness sets before us, or do we resist, barricaded in transient structures which have lost their capacity for openness to what is new? We would do well to ask ourselves these questions all through the day.
Pope Francis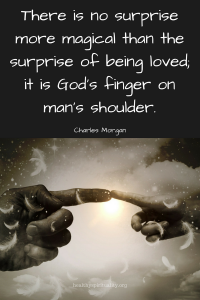 Easter reminds us to be open to the wonder of God's surprises. He will exceed our expectations when we let go and fall into his vast and limitless love. The God of the Unexpected join us in our weakness and vulnerability and surprises us with gifts more than we can imagine.
What joy awaits us this Easter and always.
How has God surprised you?