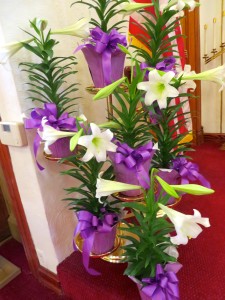 The front of our church erupted with white-trumpeted lilies this past Easter Sunday. The Easter lily has long been a sign of resurrection for many churches and its white flower symbolizing hope and purity.
Legend tells that lilies were discovered in the Garden of Gethsemane after Christ died on the cross.
Lilies grow from ugly dead looking bulbs. These bulbs are buried in the ground all winter – through terrible storms and cold endless nights. In spring they burst forth with new beautiful life. What a wonderful symbol of resurrection and life rising from death.
The tradition of my church is different families purchase a lily for display on Easter in honor or in memory of someone. We did that this year and now that lily is gracing our dining room table.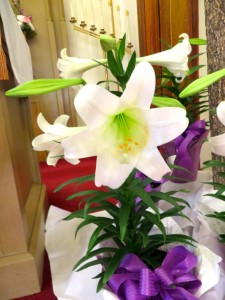 I enjoy this Easter lily three times.
Once with my eyes – seeing this flower lifting its petals up in praise.
A second time with my nose – a sweet fragrance trailing throughout the room.
And third, with my heart as I remember how Christ conquered death and will come again.
Yet I am so thankful to God, who always marches us to victory under the banner of the Anointed One; and through us He spreads the beautiful fragrance of His knowledge to every corner of the earth.
2 Corinthians 2:14 (The Voice)
I've noticed that the aroma of this flower not only lingers in the dining room, but has slowly permeated the entire house. One small flower affected many rooms. "He spreads the beautiful fragrance of His knowledge to every corner of the earth."
May my life be a sweet fragrance for others to follow Christ. It has nothing to do with me – it is Christ within me. I take on his scent by spending time with him, reading his word, following his example.
I found this beautiful prayer by John Henry Newman:
Dear Jesus, help me to spread Your fragrance wherever I go.

Flood my soul with Your spirit and life.

Penetrate and possess my whole being so utterly, that my life may only be a radiance of Yours.

Shine through me, and be so in me that every soul I come in contact with may feel Your presence in my soul.

Let them look up and see no longer me, but only Jesus!

Stay with me and then I shall begin to shine as You shine, so to shine as to be a light to others.

The light, O Jesus, will be all from You; none of it will be mine.

It will be you, shining on others through me.

Let me thus praise You the way You love best, by shining on those around me.

Let me preach You without preaching, not by words but by my example, by the catching force of the sympathetic influence of what I do,
the evident fullness of the love my heart bears to You.

Amen.
May our lives be lilies to draw other to Christ.
What symbol of Easter impacts you?