Then he called his disciples to him, and said to them, "Truly, I tell you, this poor widow has put in more than all those who are contributing to the treasury.
For all of them contributed out of their abundance; but she out of her poverty has put in everything she had, all she had to live on."
Mark 12: 43-44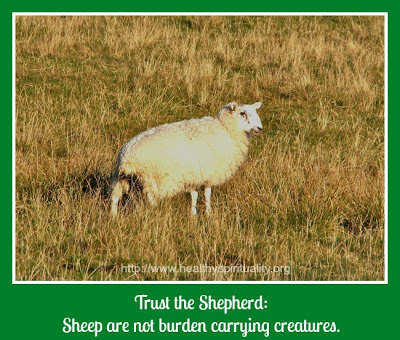 (She) put in everything
Lord my arm muscles ache.
My hands overloaded with carrying the things I cling to so desperately.
My heart can't flow, jammed with worries and cares.
My head congested with past regrets and future imaginative circumstances.
My heart wants to let go and run to You with empty outstretched palms but my head screams, "Wait… what if…"
This woman in the Gospel today, Lord. She gave You everything.
She gave out of her poverty of money when I struggle with my poverty of spirit.
Yet You tell me You live within me.
You are my Storehouse, my Provider.
You are the Shepherd to this little lamb and sheep are not burden carrying creatures.
You gently help me lay down my burdens that weigh me down.
You release my disappointments upward and out of sight like butterflies soaring in spring air.
You free me from the tethers of the world and my heart leaps alive.
With open hands I come running into Your arms desiring to only filled them with You.
Like an unburdened lamb, I frolic in Your pasture and dance in Your presence.