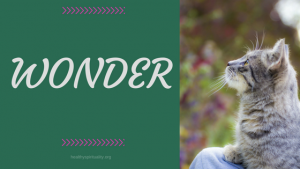 Ever wonder about wonder?
Wonder is September's Tending the Holy Thursday theme. Each month on my Thursday posts, I pick one theme (or person of faith) to explore in depth over several weeks.
Each month I also include a free download to accompany the month's topic. This month I have for you a resource called  "10 Ways to Wake Up your Wonder."  This printable is available at no cost by clicking the button at the end of this post. Enjoy!
What is wonder?
A good place to start is exploring definitions.
Take a moment and think about it.  What other words come to mind?
Awe
Fear
Amazement
Astonishment
Beyond Words
Reverence
Marvel
What would you add?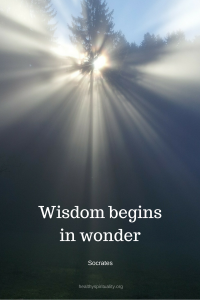 According to the dictionary, this experience is "a feeling of surprise mingled with admiration, caused by something beautiful, unexpected, unfamiliar, or inexplicable."
Another way of saying this is: "rapt attention or astonishment at something awesomely mysterious or new to one's experience."
This sensation often carries an element of surprise or seeing something new or in a fresh way. There may be hint of curiosity and joy too.
Spirituality and Practice offers this insight:
"Wonder begins in the senses, comes alive in the imagination, and flourishes in adoration of the Divine. It arises from our natural curiosity about the grand adventure of life."
I read about an 18th century Scot philosopher Adam Smith who wrote this:
"when something quite new and singular is presented… [and] memory cannot, from all its stores, cast up any image that nearly resembles this strange appearance."
Smith connected this experience with a distinct body feeling such as staring, a catch in the breath that swells in the heart. He wrote that this experience offered three dimensions:
sensory such as when we gaze and widen our eyes,
cognitive, something beyond our experience to fully understand so we gasp and say "wow."
spiritual – we feel something deep inside us that gives us meaning.
I shared a prayer about wonder here.
Why is Wonder Important?
Wakes us from the stupor of everyday routine and drudgery.
Stops us for barreling into the future so fast we miss the present.
Reminds us of More, beyond and we aren't the center of the universe.
Stirs all our emotions and makes us feel human.
Connects us with one another and More.
At the back of our brains, so to speak, there was a forgotten blaze or burst of astonishment at our own existence. The object of the artistic and spirited life was to dig for this submerged sunrise of wonder. G. K. Chesterton
More next Thursday about wonder. Don't forget to get your free printable "10 Ways to Wake Up Your Wonder' by clicking on the button below.
What do you think? Can you add to our definitions and why it is important?