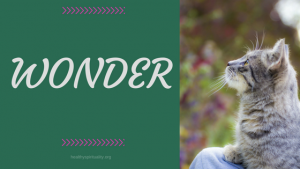 Wonder is September's Tending the Holy Thursday theme. Each month on my Thursday posts, I pick one theme (or person of faith) to explore in depth over several weeks.
Last week we explored what wonder is and today let's find windows into wonder. The wonders from God are all around us – we don't pay attention and miss them daily. Where do we find these openings, these sacred skylights, into the world of wonder?
Each month I also include a free download to accompany the month's topic. This month I have for you a one page "10 Ways to Wake Up your Wonder."  This printable is available at no cost by clicking the button at the end of this post. Enjoy!
Wonder Like a Child
When my granddaughter, Kyla was only one, I wrote this in my journal.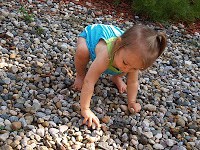 "I was fascinated watching Kyla today.  She looked intently at the ordinary river rocks, spied just the one she wanted and gingerly picked it up like it was the most precious stone on earth. She held it tenderly in her hands, murmur baby talk as if she knew somehow the rock would recognize the words, then lay it gently down.
I have stepped on these rocks in my back yard for a number of years and never once took the time to notice the individual colors, shapes and differences. I wonder what other everyday miracles I miss. One year old Kyla reminded me, this old grandma, that paying attention is a powerful spiritual discipline."
As adults, if we are to wake up to wonder, we need to become like a child once again. To take the time, intentionally noticing the marvels around, within, and above us. Yes, paying attention is a powerful spiritual practice.
"What was wonderful about childhood is that anything in it was a wonder. It was not merely a world full of miracles; it was a miraculous world."
G.K. Chesterton
Remembering and rereading this incident watching Kyla made me think of three ways to explore the windows into wonder.
P – Pause to Wonder
We rush with our blinders on of to do's, distractions, and self-importance. We need to play again. Slow down even for just a few minutes and seek wonder.
"Let me
Keep my mind on what matters
Which is my work,
Which is mostly standing still and learning to be astonished…"
Mary Oliver
P – Pay attention to Wonder
Intentionally watch for moments that astonish us. Keep a wonder book and record at least one fascinating observance or amazing fact you discover each day. Remember how transformational the practice of keeping a gratitude journal has been for many people – I bet an wonder journal could change be life-changing too.
"Learn to see and to feel life; that is, cultivate imagination, because there are still marvels in the world, because life is a mystery and always will be. But be aware of it."
 Josef Albers
P – Ponder Wonder
Here are 15 mind-boggling windows/facts to wake up wonder within your mind and spirit:
A snowflake may take as long as two hours to fall from a cloud and is not white, but translucent like glass.
Listen to waves crashing onto the beach – what you are hearing if exploding air bubbles and each has its own signature note.
The Earth's inner core is about the same temperature as the sun.
Hummingbirds' wings can beat 200 times a second.
Blue whales heart is the size of a VW Beetle and that you could swim through some of its arteries.
Around 30 places across the planet have sand dunes that sing and croak, creating low droning music that lands somewhere between chanting monks and a swarm of bees. From the Gobi Desert and Death Valley to the Sahara and Chilean desert, the source of the sounds has long remained a mystery, although there are a number of theories explaining the sonic phenomena, it remains a hotly debated topic
While the Earth and the other planets within our solar system orbit around the Sun, the Sun itself is orbiting around the center of our galaxy, the Milky Way. It takes the Sun 225 million years to perform a complete circuit of the galaxy. The last time the Sun was in its current position in the galaxy the super-continent Pangaea was just about starting to break apart and early dinosaurs were making an appearance.
 Using data from the Hubble Telescope astronomers have calculated there are likely to be around 170 billion galaxies in the observable universe.
It would take 100 Earths, lined up end-to-end, to stretch across the face of the sun.
Messages from the human brain travel along nerves at up to 200 miles an hour.
If a human being's DNA were uncoiled, it would stretch 10 billion miles, from Earth to Pluto and back.
There are more bacteria in a human mouth than there are people in the world.
For an adult human, taking just one step uses up to 200 muscles.
The brain contains 86 billion nerve cells joined by 100 trillion connections. This is more than the number of stars in the Milky Way.
A human eye can distinguish between approximately 10 million different colors.
These facts are amazing but even more wonderful is watching my grandchildren born, grow, explore, learn, smile and giggle. Life is a wonder. What a gift!
Be a wonder-gatherer. Let's practice wonder every day and thank God, the creator, artist and master crafter, who blesses us with astonishing amazements.
It takes grace in our time to keep our minds open to wonder, to be ready for the tug from God, the push from the Spirit, and the revelation of deep things from the hearts of ordinary people. It takes grace, but it is a great gift.
Lewis B. Smedes
Don't forget to get your free printable "10 Ways to Wake Up Your Wonder' by clicking on the button below.
How do you practice wonder? What reminds you about the amazing surprises around us?