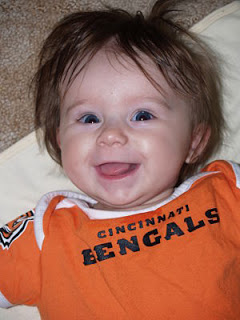 What does it mean to be exuberant? Ever hear a word you haven't heard for awhile, then all of a sudden you hear it and see it everywhere? EXUBERANT!
Exuberant means to be fruitful, joyful, uninhibitedly enthusiastic, lavishly abundant and abounding in vitality. Wouldn't that be a glorious way to live?
Kyla, pictured here, displays exuberance when she squeals with all her miniature might like a Jurassic Park baby dinosaur. Zeal erupts from her very center and her chubby arms and legs gush with unabashed enthusiasm in every lively direction. Her face radiates with an eagerness adults too soon lose.
LESSON: Exuberance involves my whole being

My online writers group – all five of us – are participating in the National Novel Writing Month or NANO for short. The web site: http://www.nanowrimo.org/ describes the process as exuberant imperfection.

People free write 50,000 word novels during thirty days, though a few of us rebels write non-fiction. The idea is to just dig deep into our souls and find those themes, thoughts, and dreams and record them. Editing and revising come later. Dig, dig dig, write, write write and find the treasures you never knew you had buried within you.
Lesson: Exuberance does not have to be perfect – just do it and as the process unfolds, new treasures will be discovered.

Exuberant God.
How great is the love the Father has lavished on us, that we should be called children of God! And that is what we are. 1 John 3:1
God is exuberant and thanks to the love he lavishes upon us, we are exuberant and that is how we are designed to worship him – with EXUBERANCE! God intends us to live each day exuberantly, drawing on his love and strength to face whatever life throws upon us.
Kyla shows me to worship God with my whole being and uninhibited joy.
NANO shows me to dive right in, not worrying that my words, actions or life are not perfect.
God shows me his blueprint how to live each day drawing on his eternal exuberance!
Exuberance mirrors the word, enthusiasm which means to be entused or filled with God.
Now that is how I want to live with exuberance enthusiasm!
Thank you Lord for your exuberance!