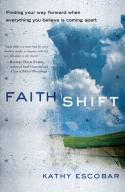 If we are really honest, we all face doubts about our faith at times. How our churches help us recognize, embrace, think through and learn from our uncertainties can make all the difference. When we journey with one another through the haziness of being unsure, often we all become stronger.
I read Kathy Escobar's new book, Faith Shift – Finding Your Way Forward When Everything You Believe is Coming Apart – with a great deal of interest. She deals with this topic – when we go through dark times of questions, hesitation and doubts – from both personal experience and from involvement in guiding others. And Kathy provides light for this difficult passage in a tender, nurturing way.
It is often when we stay with our questions, that our roots grow deeper. When we cover up our doubts with platitudes, trying harder or denying that we are experiencing disbelief, we stagnant.
This is not a self-help book to find God again in your life. It is a guidebook for transition times as your faith grows and evolves. Kathy gives us permission to express our uncertainties and discern our need to attend another church or even not attend anyplace if we need to without condemnation.
Kathy helps us name the various stages we experience as our faith shifts into new territory, tips to cope with each new phase and what to expect to gain or even lose as we evolve.
The book is full of great example, practical insights and personal or group reflection questions.
"Hope still exists when all appears lost. A shifter's overarching desire here is not to leave faith altogether but to rebuild something, This time, we can reengage with greater wisdom, maturity and authenticity, We can color outside the lines and create something more fluid, creative and artful. We can rediscover old spiritual practices and bravely develop new ones. We can being to rebuild an active, passionate, simpler faith with fewer pieces but more depth."
I recommend this book to anyone searching or those who listen to and help others in times of doubt.
I received this book from Blogging for Books for this review but received no compensation for my honest review.
What have you learned in times of doubt?