Falling in Love with God on Valentine's Day
During the children's moment at church on Sunday we talked about Valentine's Day and how this day gives us an opportunity to tell the ones we love how much we do love them.  I took the kids over to the painting in front of the church and we looked at Jesus praying.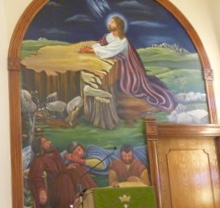 Who is he talking with? Who is Jesus listening to?  Do you think they are telling each other about their love for one another?
A few years ago, I read a reflection where the writer wrote how much she loved God and was falling in love with God more and more.  It was at that point, I realized though, I felt I had a good relationship with God, I was NOT madly in love with him.
God and I had an honest conversation about the distance of my heart from his.  I asked him to help me fall in love with him.
God answered that prayer and now I find myself over and over again amazed at his love, head over heels in love with the Creator and wanting to spend time with my Beloved.
"Let your religion be less of a theory and more of a love affair."
G.K. Chesterton
Valentine's Day is the day to express our love for "someone special."  Yes our family and friends and even acts of kindness to strangers fulfill our desire to spread love, but don't forget that "SomeOne Special" who created us, loved us first, and waits for us in love. God loves you!
Falling in Love with God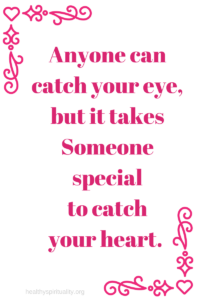 Falling in love with God and/or deepening that love begins by asking him. God wants a relationship with us and longs to be with us too. I found he loves to answer this type of prayer.
I talk with God and spend time with him.
I think about all his amazing gifts, creations, and blessings.
I remember all that God has done for me.
I read his story and learn from his wisdom.
I tell him I love him.  I write that in my journal.  I close my prayers with him by telling him how much I love him.
I spend time in his presence and seep in his love for me.
I choose to act in his love by obeying him, serving others, trying to see him in others.
"To fall in love with God is the greatest romance;
 to seek him the greatest adventure;
to find him, the greatest human achievement."
The more I beheld the wonder, depth, and endless love of God the more my heart turned to him. Here is a great article about the love of God related to Valentine's Day. 
Falling in Love with God Quotes
You know by now how much I love quotes.  I found some great ones to ponder about love and God.
We love because he first loved us.
1 John 4: 19
******
Nothing is more practical than
finding God, than
falling in Love
in a quite absolute, final way.
What you are in love with,
what seizes your imagination, will affect everything.
It will decide
what will get you out of bed in the morning,
what you do with your evenings,
how you spend your weekends,
what you read, whom you know,
what breaks your heart,
and what amazes you with joy and gratitude.
Fall in Love, stay in love,
and it will decide everything.
Pedro Arrupe, SJ
******
What a different relationship begins to develop when you realize that God is head-over-heels in love with you. God is simply giddy about you. He just can't help loving you. And he loves you deeply, recklessly and extravagantly-just as you are.
David Benner
******
I believe that the world was created and approved by love, that it subsists, coheres, and endures by love, and that, insofar as it is redeemable, it can be redeemed only by love.
Wendell Berry
******
Love wholeheartedly, be surprised, give thanks and praise – then you will discover the fullness of your life.
Br. David Steindl-Rast
******
In a world so torn apart by rivalry, anger, and hatred, we have the privileged vocation to be living signs of a love that can bridge all divisions and heal all wounds.
Henri Nouwen
******
Gratitude is twofold – love coming to visit us and love running out to greet a welcome guest.
Henry Van Dyke
******
Measure not God's love and favor by your own feeling. The sun shines as clearly in the darkest day as it does in the brightest. The difference is not in the sun, but in some clouds which hinder the manifestation of the light thereof.
Richard Sibbes
******
God loves each of us as if there were only one of us.
St. Augustine
******
Nothing can separate you from God's love absolutely nothing. God is enough for time, God is enough for eternity. God is enough!
Hannah Whitall Smith
******
We should be astonished at the goodness of God, stunned that He should bother to call us by name, our mouths wide open at His love, bewildered that at this very moment we are standing on holy ground.
Brennan Manning
******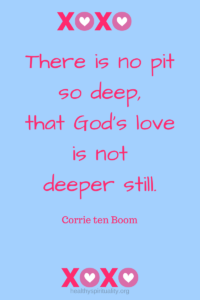 This Valentine's Day, celebrate love like you've never celebrated it before. Spend some time with God expressing your love for him and drawing near to him to experience his love.
Happy Valentine's Day!
Which quote resonated with your heart? How do you best express your love for God?