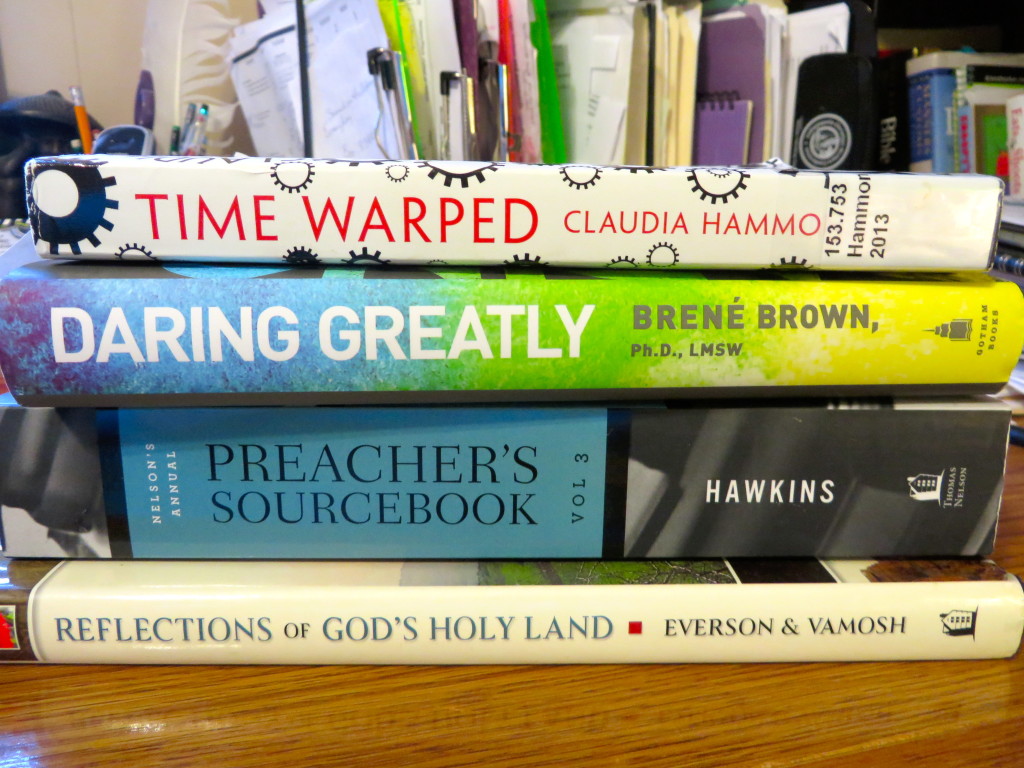 A healthy spirituality balances the nourishing of the mind, heart and spirit. The spiritual practice of reading and studying is one habit that feeds us and keeps us going.
Holidays and the days when we end one year and launch into another can be crazy and chaotic, but I did find a few segments of quiet time to read. I hungered for moments of solitude to rest my soul and to feed my spirit with God's word and what others write about our experience with God.
I thought today I would share what I read the end of the year.
1.  Nelson's Annual Preachers' Sourcebook – I received this huge resource from Thomas Nelson in exchange for a book review. I am under no obligation to give it a good review so this is my honest opinion.
As a newly commissioned Associate in Ministry at my church I am thrilled to add this to my bookshelf. This book gives sermon outline for weekly and special occasions. It is full of lots of ideas for when writers presenters' block pop up.
What I really like about this informative book are its stories and how its words will enrich my own Bible study throughout the year.
Wonderful resource for anyone digging deeper this year.
2. Time Warped – Unlocking the Mysteries of Time Perception by Claudia Hammond. I heard about this fascinating book on NPR and really enjoyed reading the trivia about how we perceive and misperceive time in our lives
An easy read, this book is interesting and fun to read. I loved quotes like this one:
"The only reason for time is so that everything doesn't happen at once."  Albert Einstein 
Topics include illusions about time, how the brain sees time, why time speeds up as we get older and tips to improve our relationship with time.
Hammond writes, "Time will warp and confuse and baffle and entertain however much we learn about is capacities. But the more we learn, the more we can shape it to our will and destiny."
An enjoyable read on a topic that impacts everyone.
And two oldies but goodies:
3. Daring Greatly by Brene Brown. I had coffee a few weeks ago with a good friend and we discussed vulnerability. I remembered how much I loved Brene Brown's work and told my friend to look her up and watch her TED talks on You Tube. Then I knew I had to revisit this book.
What a great read to start a new year.
If you haven't read any of Brown's material, I encourage you to explore her writing.
Daring Greatly is a book about finding the courage to be vulnerable and how taking that risk changes the way we live and love.  I had an opportunity last spring that scared me to death. Self doubts and fear filled me. Would I be a fool? What if they said no? It was this book that helped me identify that I was experiencing vulnerability, a very human reaction and once I knew where the anxiety was coming from, I took the first step into the unknown. This book gave me the courage to act by helping me name and describe my experience. Please read this book!
4. A few years back my good friend Eva Marie Everson wrote a book about her visit to the Holy Lands called Reflections of God's Holy Land, a personal journey through Israel. With our upcoming trip to Israel next fall, I thought this would be a good time to read her book.
Many of the sites she describes so beautifully we will visit. Since our trip is more of a pilgrimage – both on outer and inner journey to walk with Jesus – Eva Marie's reflections add depth to my heart preparation for what we will experience there.
My geographic knowledge of the Bible sites is very weak and after reading this book I now have a greater sense of how the land, such as the hills or the wilderness, also tell God's story. Like the first book I reviewed today, this book will too enhance my Bible study this year.
Ah, reading filled my hunger this December. Now what to read in January? Any suggestions?