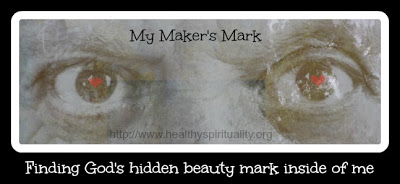 I thought I had bugs flying in my kitchen. First I assumed they were tiny gnats, then possibly a large black fly. I don't like bugs, especially in my house.
   But when I stopped and looked again, I realized what I was seeing was a sudden burst of floaters in my left eye. mmm, this isn't good.
   First thing the next morning I was at the eye doctor who dilated my eye and didn't like what he saw. They scheduled me for an appointment right away the eye specialist.
   Yep, I had a tear in my retina that he promptly repaired with the laser.
   My eye is healing well with only a few gnats and flies spots still floating by.
   Both doctors peered deep into the back of my eye. With an intense bright light I think they probably could illuminate everything from my tonsils to my toes. I wonder if they saw any of the secrets and dirt hidden in the corners of my heart?
   "You have a beauty mark on your retina," Dr. Pesin told me at my two-week recheck. "Nothing to worry about, but you should know about it."
A beauty mark?  deep inside me?  That kinda sounds nice.
I imagine if he looked closer maybe he could read the fine print engraved there,
"Made in Our image."
"You are beautiful and I want you to know that you are. And you are beautiful simply because you are created by God and He revels in the magnificence of His creation."
She continues, "What if we let God's Word lavish our souls with wonder and amazement? What if we believe Him when He tells us that we are beautiful and that we are His? If the creator of the universe made me, I not only possess some sort of beauty, but I am calling God a liar when I call myself ugly."
Yep I have always considered myself rather plain, plumb, and pitiful. Far from beautiful. Perhaps that is why her series hit my heart so strongly.
And now reading the comments and other blog posts about this same theme, I am finding so many others who struggle with a poor self image. I am not the only one who thinks this way about herself.
"True beauty comes from within; from a heart that is humbled and at peace; a spirit that is at rest with its Creator; a soul that has been restored. 
No amount of make-up can effectively remove a miserable scowl, no adorning of costly apparel will cause us to be anymore precious, and no amount of airbrushing can make a heart at peace."
And don't you love coincidencesGod-incidences? I heard Stephen Curtis Chapman's classic song Fingerprints of God the other day. There I was driving along St Route 34, bobbing my head and singing my heart out with him.
"Fashioned by God's hand and perfectly planned
And what He's been creating
Since the first beat of your heart
And I can see the fingerprints of God
When I look at you
I can see the fingerprints of God
You're a masterpiece that all creation
Guess I can't argue with the Creator. God's message of love is wrapping its arms around my heart and leaving its imprint.
I am covered with His fingerprints. I have His beauty mark to prove it. Though it was hidden until the doctor discovered it, the truth is God inscribed His Maker's Mark permanently within me. And now I know it!
What helps you to know you too are beautiful and loved by God? What is your Maker's Mark?