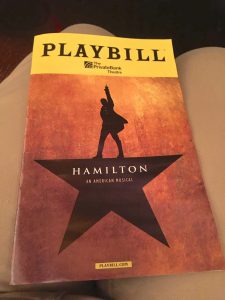 Hamilton. This popular Broadway show burst into our lives two years ago. In Chicago a few weeks ago, I had the opportunity to see it and to enjoy its story in person. My reaction?  Phenomenal! Wow! I want to see it again.
My good friend, Nancy, who knows and loves music and stories, told me last year I would like it. I wasn't sure but I do trust her opinion, especially when it involves musical theater. I know I like history, but come on, me listen to a show mostly with rap and hip-hop? Really? Ha! I was quite the skeptic.
When will I learn to quit allowing
my arrogant presumptions and judgmental attitude
to block an opportunity?
Sigh.
I listened to the music of Hamilton. I read more about his story. I fell in love with this musical and couldn't wait to see it in person.
Total reversal. Unexpected surprise. Lesson learned – once again.
Often our opinions obscure opportunities.
[Tweet "Often our opinions obscure opportunities.  Jean Wise"]
Five Spiritual Snippets from Hamilton
Yes, I learned to love the music and the story on Alexander Hamilton – details in our American history that I didn't realize. One of my biggest surprises, though, were the snippets of wisdom and inspiration scattered throughout the show. Here are five for you to ponder along with me:
"There's a million things I haven't done, just you wait"
Alexander Hamilton sings these words of hope, anticipation, and optimism. I love the energy in this line that motivates me to consider what million things still call to me in my life to attempt.
I read a few months ago about a 75-year-old man who wrote a list of the 25 books he has yet to write and began working on them. 25 books! And he is 75! Wow!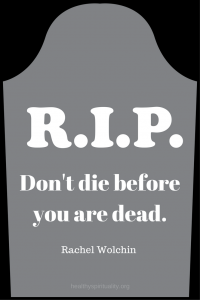 "Why do you write like you're writing out of time?"
As a writer, I love this line. Alexander Hamilton wrote, wrote, and wrote. His writing was his ticket out of poverty, his method to make connections and rise in his work, and his approach to creativity and managing problems.
He wrote for George Washington. He wrote most of the Federalist Papers which are still used today. He wrote letters, issued opinions, and even founded the New York Post.
Writers write. We don't just talk about writing. We plant our bottoms in the chair, turn off social media, focus on the work to be completed, and we write.
We write like we are running out of time – because that is the calling God gave us.
How to Write Like Hamilton is an interesting article to read.
"There are moments that the words don't reach. There is a grace too powerful to name. We push away what we can never understand. We push away the unimaginable."
We have all felt the pain of loss, so these lyrics hit our heart. We ache. We cry. We lament.
In these dark moments, we don't always feel God's presence. We may even be angry with him. But he never leaves us. He is there holding us, collecting our tears in his heart. He is that "grace too powerful to name."
I love words, but this line reminds me words bring us closer but never fully capture the mystery and magnitude of God and this human experience we undergo.
"Legacy. What is a legacy? It's planting seeds in a garden you never get to see."
What will we leave behind once we are gone? Who will tell our story? What will be remembered? How will we be remembered?
I often thought what fun it would be to leave a funny or inspirational sentence carved on my tombstone. I imagine someone walking in the cemetery decades from now, pausing at the place I am buried to read those words, and smiling, leaving with hope.
More important is to leave good memories in the hearts of others. Flowers we never see that bloom in future generations.
 "Carve your name on hearts, not tombstones. A legacy is etched into the minds of others and the stories they share about you."
Shannon L. Alder


"The plan is to fan this spark into a flame."
This lyric reminds me of the Bible verse from 2 Timothy 1: 6:
For this reason I remind you to fan into flame the gift of God.
God gives us the gifts of life and faith. God plants the spark of ideas, service, creativity within us. Our job is to fan those flames. Use those gifts. Serve others through those gifts.
It's about God, not us.
It's about the Giver, not the gifts.
Fan the spark into a flame.
This last quote is similar to thoughts I write in my latest book, Fuel your Faith, which should be available on Amazon in early July. Here's a sneak peek of the book cover. Watch for that announcement coming soon.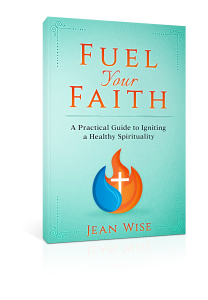 Have you seen or listened to Hamilton? What movie or play or book has inspired you lately?