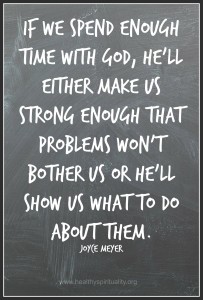 Many of us want to spend more time with God. We have good intentions. Start out strong. But after a few days or changes in schedules or sick kids or life in general, we forget/postpone/purposely choose to delete spending precious moments with God.
I really do believe God understands this common human dilemma but I sincerely want and desire to spend more time with him.
We don't make time; we have difficulty in managing time. In reality we have no control over time nor the disruptions in life. Life happens. Our job is to be faithful and keep returning to God.
I have been thinking about the difficulty in keeping my time with God. Life just interferes, interrupts and intercepts my mind and heart. Here are five tips/observations I have been considering when trying to find time with God.
Make the intention anyway.

Find your basic rhythm. I know when I start the day with God, the day goes better or at least I have a more peaceful attitude towards whatever comes my way. I love to stretch and wake up with God. "Good morning God" is often the first reasonable thought formed in my small brain in the morning. I talk to God as I snuggle under the covers to go to sleep at night too.

Make the use of small segments of time

. – I invite God to wash dishes with me. Some of our best conversations take place in the shower and while driving. Befriend the digital clock – pick certain times and when you see that time on the clock pray. 5:22 – was my husband radio number at his place of employment and when I see that time on the clock I pray for him. 3:18 – is my birthdate so when I notice that time, I pray for families and friends.

Make interruptions – God- moments.

I used to get so perturbed with disruptions in my schedule. Now I hold them more lightly allowing God to use them for his purpose not cling to time just for myself. Listening and being with someone who needs us si vastly more important than our to-do lists.

Make use of resources and new ideas

– start a journal, a new devotional, read one psalm each day. Each day find a new wonder, word or verse to share in conversation with God.

Make time for the opposite.

If you are living in a noisy environment, intentionally seek quiet even for five minutes. If you have too much quiet, seek music and noisy interactions. If you are inside, go outside in the backyard or nature and marvel at God's artistry.  
Talk with God honestly about how you spend your time with him. Write your frustrations out; talk with a trusted friend and/or spiritual director. Often when putting words either in writing or with voice about your barriers to God puts them into perspective and solutions appear.
Somehow our talks with God should flow into all of our daily activities, thoughts, conversations and even distractions and detours. He is present always, not just when we sit down with him. Henri Nouwen stated it much clearer than me:
To pray, I think does not mean to think about God in contrast to thinking about others things, or to spend time with God instead of spending time with other people.
Rather, it means to think and live in the presence of God.
As soon as we begin to divide our thoughts about God and thoughts about people and events, we remove God from our daily life and put him into a pious little niche where we can think pious thoughts and experience pious feelings.
Although it is important and even indispensable for the spiritual life to set apart time for God and God alone, prayer can only become unceasing prayer when all our thoughts – beautiful or ugly, high or low, proud or shameful, sorrowful or joyful – can be thought in the presence of God.
Thus converting our unceasing thinking into unceasing prayer moves us from a self-centered monologue to a God-centered dialogue.
Henry Nouwen
Simplicity – I think often we make it harder and more complicated than we should. Just talk with God. Let go of the "should's" and just rest in his arms. Gaze at his face. Enjoy his presence.
I am so grateful that God honors our intentions and our desire to be with him. And he loves to surprise us with his presence if we are open and pay attention.
What do you do to find time with God?