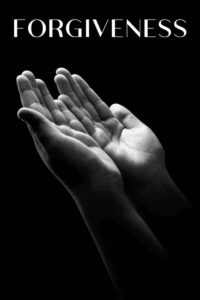 F stands for forgiveness.
Forgiveness is a pillar of a healthy spirituality.
In 2023 I plan to explore different building blocks, components, the essential nutrients that support a vibrant strong life with God. I hope to learn, study, and share thoughts about these various aspects and hope they bring fresh insights to all of our earthly journeys as God continues to shape our souls.
I am also participating in a yearlong "Reading the Sacred in Everyday Life" program by SpiritualityandPractice.com.  Each week we study an alphabet practice through readings, movie clips, discussion, presentations, quotes, poems and many other rich thought-provoking and heart-stretching words. This site actually offers 37 practices, so some letters are repeated twice.
F stood for faith. F also represented forgiveness. Faith appears easy at first, but the readings burrowed new perspectives deep into my being. But forgiveness pushed me into uncomfortable realities of wounds long buried and concepts long outdated.
At the end of the week I wrote, "I acknowledge and want to remember:
Forgiveness is challenging, complex, hard, heavy, and often illogical.
Unforgiveness is a poison, a prison and as Macrina Wiederkehr wrote "resentment is a troublesome sidekick."
I can choose to care for my recurring wounds that may never heal.
Forgiveness is a daily practice.
I want to live not with a hardened heart, but strive for a softer spirit.
Two readings linger with me as I move onwards into new practices.
"A man rowed a small boat upstream, heading toward home, when he felt another small boat heading downstream, collide with his boat. Since he had the right of way, he felt angry. Turning, he yelled at the other boatman "Watch where you're going! Be more careful!". The other man apologized, and passed by without further incident.
But an hour later, as the man continued upstream, he felt another boat collide with his. Furious, he turned to yell at the reckless person. His anger vanished when he saw that the boat was empty – it must have come loose from its moorings. Calmly, he pushed it aside and continued on his journey.
He never lost his temper again, because from then on, he treated everyone like an empty boat." Dan Millman
I want to remember everyone I meet is an empty boat.
"Forgiveness is the gift that says two things: First, I am just as weak as everyone else in the human race and I know it. And second, my inner life is too rich to be destroyed by anything outside of it." Joan Chittister
Forgiveness is a difficult topic. We all make mistakes, but some wounds are so much more than simple mistakes. I have much to learn about this practice – probably a lifetime of new lessons and insights await ahead.
What have you learned about forgiveness? Let's share.