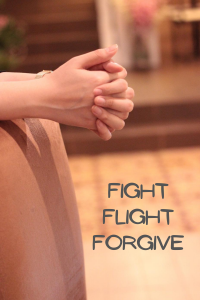 To forgive is hard when all the human mind and heart wants to do is fight or flight.
I have been wrestling with this concept for the past week. You see, a week ago two incidents ripped open old wounds in my soul. Places I thought were healed. Holes I assumed were restored. Hungers no longer driving my behavior.
Other people's choices impacted my story in a deep disruptive way. Maybe I am more fragile due to these uncertain times we are living in or maybe now was God's time to revisit my deep hurts for more healing. Probably both.
The attacks arrived about four days apart and immediately I took my stance to fight. I will show them. I will never again… I know I will do this in retaliation…
Then I reversed into flight. I am done. I am leaving. I always knew… Never again will I…
Fight and flight are normal human reactions to a threat. Humans would not have survived this long on earth without this protective mechanism. These reactions arise from the lower part of the brain to keep us safe. I know this about our nature, about myself. Yet the speed of my reaction amazed me. Suddenly I fell into the pit of emotions and lost my footing on solid ground. One more out of control trouble to deal with during a year of uncontrollable disorder.
One day in the shower my anger erupted in rage to these trigger events. I shouted. I cried. I heard deep intense hate and wrath.
I stopped, shocked at my outrage and fury. I knew then I didn't want to live like this. Hate, anger, and bitterness kills the soul.
Later that morning I sat quietly at the Lord's feet, giving up my fight and flight. I ask God what next?
"Forgive", he replied.
"But Lord, forgiveness is so hard."
"Where in the Bible or when did I say forgiveness would be easy?"
Of course, God is right.
The next right step for me was to forgive.
Forgiveness is a funny thing. It warms the heart and cools the sting.

— William Arthur Ward
I chose forgiveness. I have to work on this choice every day, every moment. I remind myself forgiveness is as much for me as for the other.
Without forgiveness life is governed by an endless cycle of resentment and retaliation.

— Roberto Assagioli
I also intentionally pick up more gratitude. Whenever I find myself starting to relive what happened, I say out loud a prayer of thanksgiving. For that moment. For ordinary beauty. For life itself.
Love speaks louder than hate.
Love heals.
Love sooths the agitated abrasion of my soul.
Forgiveness takes time, intention, and strength not from me, but from God.
Fight and flight lead to fear and folly.
Forgiveness leads to freedom and faith.
I almost didn't write this post as I am still reeling from these new battles, but writing these words solidifies my intention, and perhaps helps you too.
What helps you to choose forgiveness over fight and flight?