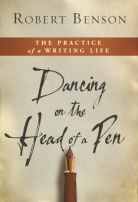 Everyone has the gift of creativity. We just express creativity in different ways.
All children are born oozing with curiosity and creativity. As adults we need to coax that childlike inventiveness out of its hidden corner.
Some people excel in the kitchen. Some garden. Some tackle complex computer problems and get lost in the world of numbers and equations. Some take their ingenuity to work with broken people.
Some of us nurture creativity in others.
Some of us are painters or poets or potters. 
And some of us write – creating with words and crafting with letters and our tools of ink and computer clicks.
"Every day is an opportunity to be creative – the canvas is your mind, the brushes and colours are your thoughts and feelings,
the panorama is your story,
the complete picture is a work of art called, 'my life'.
Be careful what you put on the canvas of your mind today – it matters." 
— Innerspace
I just finished reading a wonderful book by Robert Benson called – Dancing on the Head of a Pen – the practice of a writing life. I loved it and highly recommend it to all of you who write and most of you splashing in the waters of the creative life.
This book will inspire the writer and give practical tips as we peek into Benson's writing process. I have read a ton of books about writing and this one is one of the best. His words abound with new ideas and encouragement.
Filled with motivating quotes and down to earth reality about the life of a writer, I finished the book quickly with the realization I was not alone in this field. I highlighted multiple passages from this short easy to read book.
Some you don't call yourselves writers but do keep journals. Some of you don't know a hanging participle from an incomplete sentence, but love handwritten letters. You are writers.
As my hubby drove the car the other day and I buried my nose in this treasure, I kept laughing aloud, saying listen to how he writes this phrase. Benson speaks to the heart of every writer.
"Any writer worth his ink stains can think of a small army of things to keep him from writing. If he does not have enough imagination to invert the excuses necessary to keep him from writing, he likely does not have enough imagination to write a book."
And a lesson for all of us:
"And I learned the value of slow. I learned not to chase the words but to listen for them."
Writers – dive into the pages of this book. You won't regret it.
I received this book from Blogging for Books for this review but was not required to give a good report. I really did like this book.
 How do you express your creativity?