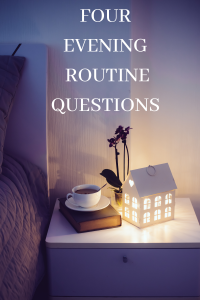 Do you have an evening routine?
Routines help us by saving brain power and time in decision making, give our day structure and either starts my day with healthier habits or helps me unwind at bedtime.
Kendra over at the Lazy Genius wrote a great blog post about the value of routines and it is well worth your time reading her wisdom.  Much to ponder in that article.
Emily Freeman in her latest podcast discusses evening routines and her words made me assess one of the essential tasks I do before falling asleep each night.  I ask myself four evening routine questions.
Four Evening Routine Questions
Previously I rotated between three questions at night to review the day with God. I wrote about this on this post.  My routine is based on the ancient prayer practice called the Daily Examen. This prayer is a prayerful reflection on the events of the day in order to detect God's presence and discern his direction. With this prayer we clearly discover God's blessing in our ordinary life. The Examen helps us see God's hand at work in our whole experience and originated with St. Ignatius.
Here are my questions with the newest #4 added just this year.
When did I feel God's presence today?  Where did I see the holy?
I have learned to start with this one and to be honest, have realized how many of my days are mindless and future-focused so much, I miss God's gifts in the present.  By asking this question as a routine, I am amazed at my growing awareness of God throughout the day.
2. What am I most grateful for?
Ending the day counting my blessings is the best way to fall asleep and often I am out before getting to the next two questions.
3. What am I least grateful for?
Reviewing what didn't work as well for me that day in the light of God's presence and in gratefulness for all that did work, usually shrinks the negative into a doable, easier to let go fragment of life.
How did my word of the year, GO, come alive today?
Some of my words of the year melt into the background of busyness and never get fully developed. In 2021 my word is GO. I am trying to give this year's word space to grow by cultivating it daily. GO invites me to take a risk, be bold for God, ask for help where I often hesitate, and stretch into the unknown with courage. GO reminds me to watch for Grace Observed and go the distance. Somedays I ponder what I need to let go of or go for in life.
What evening routine do you practice that gives you life and brings you closer to God?  Let's share and learn from one another.