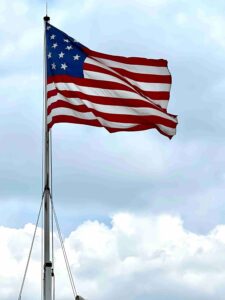 Freedom is celebrated in many ways but in the United States we set aside the Fourth of July to savor freedom, cheer in parades, wave the flag, and watch glorious fireworks. Here are a few quotes about freedom to consider.
"For to be free is not merely to cast off one's chains, but to live in a way that respects and enhances the freedom of others." Nelson Mandela
"Freedom is the open window through which pours the sunlight of the human spirit and human dignity." Herbert Hoover
"May we think of freedom, not as the right to do as we please but as the opportunity to do what is right." Peter Marshall
"But laws alone cannot secure freedom of expression; in order that every man may present his views without penalty there must be a spirit of tolerance in the entire population." Albert Einstein
"Those who expect to reap the blessings of freedom, must, like men, undergo the fatigues of supporting it." Thomas Paine
"All the great things are simple, and many can be expressed in a single word: freedom, justice, honor, duty, mercy, hope." Winston Churchill
"Let us not seek to satisfy our thirst for freedom by drinking from the cup of bitterness and hatred." Martin Luther King Jr.
"I'd like to be remembered as a person who wanted to be free and wanted other people to be also free." Rosa Parks
"With freedom comes responsibility." Eleanor Roosevelt
"Life without liberty is like a body without spirit." Kahlil Gibran
"Christ has set us free to live a free life. So take your stand! Never again let anyone put a harness of slavery on you. So Christ has truly set us free. Now make sure that you stay free, and don't get tied up again in slavery to the law. For you have been called to live in freedom, my brothers and sisters. But don't use your freedom to satisfy your sinful nature. Instead, use your freedom to serve one another in love. For the whole law can be summed up in this one command: "Love your neighbor as yourself."But if you are always biting and devouring one another, watch out! Beware of destroying one another." Galatians 5:1, 13-15 The Message
I am grateful to live in a country, though far from being perfect, is free. Thank you, Lord, to live in a place where freedom of worship still exists. Where I have choices. A place to cherish, support, and do my best to try to make free for all people. I am grateful for freedom.
Do you have a favorite quote about freedom? Any of these resonate with you?
Happy Fourth of July!!