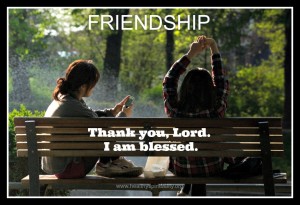 Time stood still for me twice this past week – brief moments of tranquility, gratitude and rare awareness of how precious life can be. I held these treasured memories, took a photo with my heart and tucked the vision away to keep forever.
I breathed in friendship this week.
I ate my birthday dinner with a friend from sixth grade. We have known each other for more than 50 years – a journey we traveled together transcending life stages and unexpected detours. You can't put a price on this relationship – so precious. She is a lifelong friend transformed into a sister for me. I looked at her across the table and smiled. I held that moment and said thank you, Lord. I am blessed.
On Sunday, ten of us gathered together to share our photos, laughter and recollections of our pilgrimage to the Holy Lands together. Not only do our travels connect us but also our shared beliefs. God's presence in our relationships adds depth, flavors our conversations and cements our link with one another for eternity. My living room beamed with the light of love and sparkled with joyful noise. I held that moment and said thank you, Lord, I am blessed.
The reality is life zooms by and we often don't pay attention to these moments. I wanted to gather them up into my heart before they disappeared. I don't ever want to forget this treasure that enriches my living.
Emily Dickinson wrote: "Forever is composed of nows."
I cherish these "nows", these present moments of life that remind me of its value and where true joy is found. In these moments of friendship, I experienced God.
Thank you, Lord, I am blessed.
Where have you seen God lately?