Reading a daily devotional feeds the soul and feeding on God's word each day is an essential spiritual practice for our walk with Him.  But do you ever just plan don't have time for your morning routine?  I sure have had that lately and feel a parchedness in my soul and a disconnect from God.
I lived through a series of difficult nights and early mornings helping a dear friend through major health issues.
Then this week my husband and I left at 5 a.m. to take another friend to the hospital for early morning surgery.
My morning time with God has disappeared.
Except for one bright moment:
Author Beth Bence Reinke sent me her pocket size devotional to review. Little did she know she sent it to me just at the right time, as I desperately needed a way to communicate with God in a quick and easy fashion.  Her words provided nourishment just when I most required them.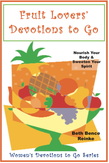 Fruit Lovers' Devotions to Go is unique in several ways. 
First it is pocket size, so it fits easily into a purse or pocket. Its 30-day inspirational set of devotions is perfect for on the go and hurried times.
Secondly Beth is a registered dietitian, so besides including nutrition for the soul she has added delicious fruit filled recipes.  Mmmmmm, good!
She writes:
"Fruit is mentioned almost two hundred times in the Bible. Words and phrases such as 'fruitful,' 'fruit-bearing,' and 'fruit of the spirit' are used through scripture to describe a fulfilling, abundant life. I hope these devotions give you fresh, fruitful insight and inspire you to become fruit-filled in body and spirit. Remember… just add fruit!"
Her stories will feed your heart and provide fuel for your day. I know her words certainly helped me through the hectic times.
This book would be a great gift to give to a harried parent or someone needing a quick dose of encouragement.
Looking for good nourishment for your body and your soul? Take in Fruit Lover's Devotions to Go.