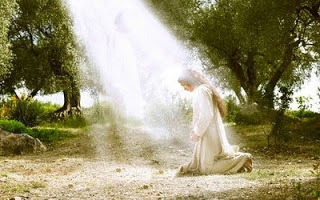 In the sixth month, God sent the angel Gabriel to Nazareth, a town in Galilee, to a virgin pledged to be married to a man named Joseph, a descendant of David. The virgin's name was Mary. The angel went to her and said, "Greetings, you who are highly favored! The Lord is with you."
  Mary was greatly troubled at his words and wondered what kind of greeting this might be. But the angel said to her, "Do not be afraid, Mary, you have found favor with God. You will be with child and give birth to a son, and you are to give him the name Jesus. He will be great and will be called the Son of the Most High. The Lord God will give him the throne of his father David, and he will reign over the house of Jacob forever; his kingdom will never end."
  "How will this be," Mary asked the angel, "since I am a virgin?"
  The angel answered, "The Holy Spirit will come upon you, and the power of the Most High will overshadow you. So the holy one to be born will be called[c] the Son of God.  Even Elizabeth your relative is going to have a child in her old age, and she who was said to be barren is in her sixth month. For nothing is impossible with God."
   "I am the Lord's servant," Mary answered. "May it be to me as you have said." Then the angel left her. Luke 1: 26-38
"Do not be afraid."
Lord, I identify with Mary's reaction. If an angel suddenly appeared in front of me I too would be "greatly troubled."  How frightening this unearthly appearance must have been!  But God is a God of peace, not fear.
"Do not be afraid."
Then curiosity would begin to rise in my heart. Who is this and why would an angel visit me? Mary's mind raced to thousands of possibilities, probably none of them correct. God is a God of surprises, not impossibilities.
"Do not be afraid."
She didn't foolishly run from you nor did she blindly obey at first. She listened. I imagine her whole body tickled with intense attention to every word the angel told her. She respectfully discerned this was a true message from you. Then she dared to ask a question. God is a God we can approach with questions in our hearts.
"Do not be afraid."
Mary's obedience  – "May it be to me as you have said." – is courageous, obedient and humble. Lord may I obey you as she did. My fear holds me back. My ego screams "My will, not the Lord's."  My mind clings to all the other clutter in my life that demands top priority other than you. God is a God of forgiveness, guidance, and love.
"Do not be afraid."
Thank you Lord for your peace, surprises, approachability, forgiveness, guidance and love. Thank you for coming to Mary with the message "Do not be afraid." Thank you for sending Jesus to be born, to live, to die and to live again so we can live without fear the life you gave us. Listening to the angel and pondering what this must be have been like for Mary, leads me to conclude:
I will not be afraid.