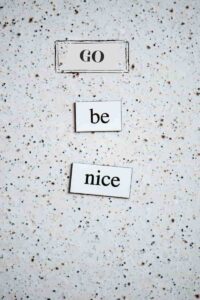 Go. Be nice.
That simple phrase I heard in my prayers the other day.
"But God. I am nice. Or at least I like to think I try." My initial response was more of an excuse than I willingness to follow.
Adding the word, my word of the year, Go, to that phrase did add a bit of urgency and direction. So I prayed and pondered and found ways to practice being nice.
The invitation is to be intentionally nice to those I meet.
To remember all are struggling, carrying hidden hurts and unspoken wounds.
To give grace.
To do the most loving response at that time.
Being nice may seem like an ordinary unexciting option, but we all appreciate people who are genuinely nice. Being nice isn't most of our default mode, our natural instinct. It requires effort and energy. I know many times I don't want to be nice or take the time to go that extra mile. I sure can rationalize reasons to be nice later.
Then I learned today (October 5) is National Do Something Nice Day.  I had never heard of that recognition day before.  Have you? We "should" be nice every day but what if we followed the invitation to "Go, be nice" each morning and carry that intention throughout our day?
I don't mean to be a doormat or being used/abused here.
What does it mean to be nice?
Bring a little kindness to a broken world.
Smile.
Pass on a compliment.
Return the shopping cart.
Visit the lonely.
Write that note.
Listen, don't interrupt.
Say hello
Let someone in line ahead of you
Pick up litter.
Be generous.
I read some article that gave the difference between being nice and kind, but I think they overlap.
Lord may I be nice today.
Forgive my lame excuses.
You have been kind to me; May I share that kindness with others.
Open my heart to truly see and hear the person in front of me.
I may not be able to change the whole world, but I can change the world for those I meet today.
May Your love and grace be ever before me as I seek to be Your instrument of blessing in the lives of others.
How do you practice – Go-be nice?