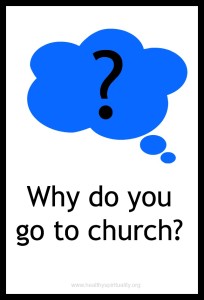 The Barna group recently released some new findings including how people answered this question: Why do you go to church?
When asked if they attended church that week, only four in ten Americans answered yes.
Americans not attending any type of church function at all in the last six months continue to increase especially among the Millennials.
Barna reports:
"Overall church attendance has dipped from 43% in 2004 to 36% today. But beyond a dip in attendance numbers, the nature of churchgoing is changing. Regular attenders used to be people who went to church three or more weekends each month—or even several times a week. Now people who show up once every four to six weeks consider themselves regular churchgoers."
I thought the reasons why people attend church were fascinating. To be closer to God was the answer for 43% with 38% saying they needed to learn more about God.
Sadly the group also discovered that growing closer to God rarely happens.
"Fewer than two out of 10 churchgoers feel close to God on even a monthly basis.
Additionally, while almost two-thirds of those who value church attendance go to learn more about God, fewer than one in 10 (6%) who have ever been to church say they learned something about God or Jesus the last time they attended.
In fact, the majority of people (61%) say they did not gain any significant or new insights regarding faith when they last attended."
I don't know how the rest of you react to these findings but my response was prayer. I don't know the answers, but God sure does and if we listen, we can still help others draw closer to God and learn more about him.
To love God and help others know His love.
To know God and to make Him known.
We can't keep our heads in the sand, ignoring these facts. We can't say – if we build it, they will come. They won't and they aren't coming.
A good friend reflected to me the other day that it is like we are fishing in the aquarium. We need to expand our scope, our ways of worship. We need to set sail out of the harbor where we are just waiting for the fish to come to us and go out into the deep and be with them.
All this stirs my soul and spins conversation with the Lord. I am not sure my next step but I am listening, I am thinking, I am reading more and I am wondering possibilities.
Why do I go to church? Yes to get closer to God and to learn more about him. But the main reason I go to church is to worship this mysterious Divinity that loves me unconditionally and gave me life. I go to church to thank her, to praise him and to just to be with them.
Why do you go to church?