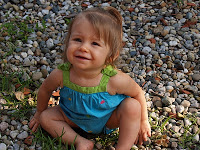 My one-year-old granddaughter, Kyla, has been here the past three days as her parents help put on a new roof on our house.
My duties while they lifted, hammered, and sweated in the hot summer sun?
Babysit!!
Now being a good grandma I have a collection of fun and developmental correct toys and lots of books for her. Yet what was her favorite activity?
Playing in the backyard with stones.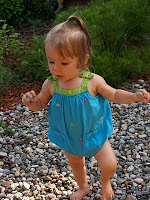 I was fascinated watching her.
She looked intently at the ordinary river rocks, spied just the one she wanted and gingerly picked it up like it was the most precious stone on earth. She held it tenderly in her hands, murmur baby talk as if she knew somehow the rock would recognize the words, then lay it gently down.
I have stepped on these rocks in my back yard for a number of years and never once took the time to notice the individual colors, shapes and differences. I wonder what other everyday miracles I miss. One year old Kyla reminded me, this old grandma, that paying attention is a powerful spiritual discipline.

God reaches down into the mucky mess of this world and picks up an unremarkable, ordinary human being.
He holds that person tenderly and whispers His love in a language we may not fully understand, but somehow know. I believe He holds each of us this way every day, every moment. Watching Kyla, I saw God.
Seeing the world through the eyes of a one year old and experiencing the presence of God surprisingly blessed my day.