Behold the work of the Lord.
Newscasts last week carried this story:
"Remote-controlled cameras sent down to depths of more than 4,500 feet in the Coral Sea, northeast of the northern Australian city of Cairns, have brought back unprecedented views of six-gilled sharks, giant oil fish, swarms of crustaceans and nautiluses that have been compared to "living fossils."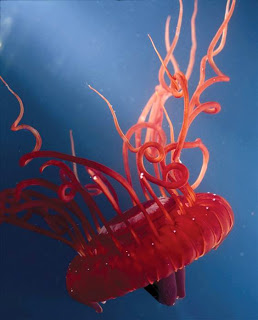 The photographs fascinated me. Just think we had no idea these creatures even existed until the camera captured them. God created their brilliant colors, symmetrical bumps and flowing tentacles and set them free to dance just for Him these last million years or so. Now He is sharing them with us, His deep sea delights.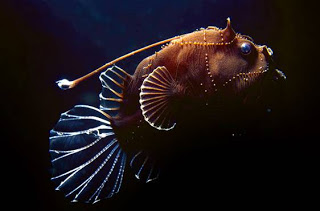 When the photos appeared on the television screen, their beauty drew my attention.
I abruptly stopped everything else and said, "
Only God could have made something so wildly imaginative as these fish."

The photographs haunted me. With the renewed effort to be green and the tragedy with the oil spill in the gulf, these photographs also stirred within me a deepening appreciation of the delicate balance for all life.
Behold
– a neat word meaning to gaze lovingly and tenderly.
To give our full attention to soak in every detail. To humbly recognize Who is the real power behind the wonder of every creature, every circumstance, every moment in our lives.
Perhaps as we grow spiritually, we need to become better beholders, to fully take in the glimpses of divine grace that surround us.