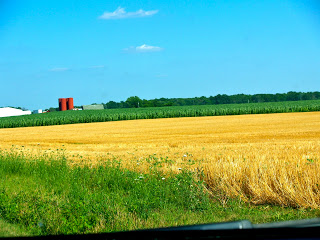 I am so grateful for God's creation. Some days God's palette of color overwhelms me.
After all, He could have made the world black and white.
Or said,
"Let's keep it simple and only use primary colors."
I love the springtime pastels and the fall hues set ablazed.
But one of my favorite times of year is when God turns Ohio golden.
The ripen fields of wheat snuggle against a deep green of early corn.
Then the Artist scatters swatches of orange as the Tiger Lilies spring up wildly in the ditches.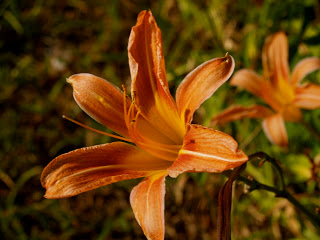 These colors grace us with a glimpse of heaven.
I bet God takes delight as we discover and enjoy His palette.
Do you have any idea how many colors there are in the world He created?
Scientists estimate we can see about 1000 levels of light-dark, 100 levels of red-green, and 100 levels of yellow-blue for a single viewing condition in a laboratory. This means that the total number of colors we can see is about 1000 x 100 x 100 = 10,000,000 (10 million).
But that is within a laboratory. Color is affected by how we view it: the light, the moisture in the air and how they reflect upon different surfaces. On top of that number, each of us sees colors a little bit differently too.
I read one estimate that with all the colors and various conditions taken into consideration, the number is truly endless. One example was given like this:
If we have 10-million colors, times 10- million lighting types, times 10-million lighting levels, times 10-million surrounding colors, times 6-billion people in the world, times 3 modes of viewing we get a really huge number. The result of that multiplication is 18 followed by 33 zeros (18,000,000,000,000,000,000,000,000,000,000,000), or 18 decillion.
WOW! And just the site of one wheat field made me stop in thanksgiving and praise. I don't think I could survive seeing all of God's palette at one time.
Now that will be heaven, won't it?