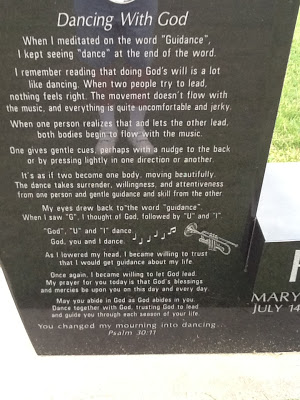 Guidance. God and I dance.
Do you see in the word Guidance – the words God and I dance? A friend took this photo of a gravestone a few weeks ago. Inscribed was the perhaps familiar to you poem about the word "guidance" and "God and I dance."
When I meditated on the word Guidance,
I kept seeing " dance" at the end of the word.
I remember reading that doing God's will is a lot like dancing.
When two people try to lead, nothing feels right.
The movement doesn't flow with the music,
and everything is quite uncomfortable and jerky.
When one person realizes that, and lets the other lead,
both bodies begin to flow with the music.
One gives gentle cues, perhaps with a nudge to the back
or by pressing lightly in one direction or another.
It's as if two become one body, moving beautifully.
The dance takes surrender, willingness,
and attentiveness from one person
and gentle guidance and skill from the other.
My eyes drew back to the word Guidance.
When I saw "G" I thought of God, followed by "u" and "i".
"God, "u" and "i" dance."
God and I dancing. I like that image. He leads, I follow – to be honest, not always true.
Daily surrendering to His movements.
Paying attention to the gentle cues and soft nudges He gives throughout the waltz of each day.
How poignant to read this on a tombstone.
How thought-provoking to know the one who took the photo is struggling with his diagnosis of cancer.
How touching the words are to my heart and mind.
I wonder what message to leave on my tombstone?
I don't know the answer, but I do know I would love to bequeath words of hope like this woman did.
Imagine how many people wander through that cemetery.
Perhaps mourning the lost of a loved one.
Maybe under attack with self-doubts, discouragement or false accusations.
Possibly lost in the fog of confusion and indecisiveness.

The words and image of dancing with God lives on even in death.
Psalms 30:11-12 You have turned for me my mourning into dancing; You have put off my sackcloth and clothed me with gladness, To the end that my glory may sing praise to You and not be silent. O Lord my God, I will give thanks to You forever.
Yes I will give thanks to you, Lord, forever and continue to dance!
How do you dance with God?