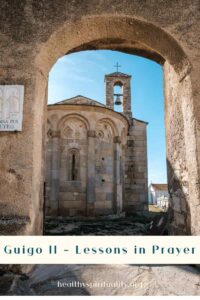 Guigo II – do you know him?  I certainly didn't until Jim Finley introduced him to me in the wonderful podcast Listening to the Mystics.  Guigo became a new lamplighter for me and one inviting me deeper into prayer, especially lectio divina.
Lamplighter
I learned the term lamplighter from modern day mystic Cynthia Bourgeault who described spiritual teachers in her life – both ancient and contemporary – as lamplighters, those  lighting the way for her path.
I love this word and have learned like electric wires bring light into my soul I too have lamplighters even a few high-tension ones that boost my spirit beyond the ordinary. Highly charged lamplighters for me are Henri Nouwen, Teresa of Avilla, and Barbara Brown Taylor.
Who are your lamplighters?
Guigo II
Guigo is a new mystic and teacher for me.
Guigo II, a Carthusian monk who died in 1193, left two key writings, the Ladder of Monks and the Twelve Meditations. These two works found in one book are my current reading.  I skipped the long detailed scholarly introduction and discovered the meat of the book, his idea of a ladder into the presence of God is only 17 pages long.  No excuse not to study this!
Guigo's rungs of the ladder may sounds familiar to some of you: Lectio Divina. This book is considered one of the first descriptions of Lectio Divina, a powerful spiritual practice with roots in St Benedict from the 6th century. Guigo's ladder consists of four rungs termed in Latin as lectio, meditatio, oratio, and contemplatio.
According to Guigo, "Reading seeks, meditation finds, prayer asks, contemplation feels."
Lectio Divina is an ancient way of meditating on Scripture to listen to the Holy Spirit speak from the Bible to our hearts and guess what: you don't have to be a monk or a lamplighter to enjoy, grow and be with God with this practice.
This tiny book is inviting me once again into prayer using these steps but adding new insights into this practice.
Guigo writes:
"Reading, so to speak, puts food solid in the mouth,
meditation chews and breaks it,
prayer attains its savor,
contemplation is itself the sweetness that rejoices and refreshes.
Reading concerns the surface,
meditation concerns the depth
prayer concerns request for what is desired,
contemplation concerns delight in discovered sweetness."
You can read more about this deepening practice on many websites such as this link.
Next Steps
I plan to slowly sit with this book and the wisdom of Guigo.
I have used lectio divina multiple times on retreats and in my daily prayers but never consistently. What an invitation to cultivate my prayers deeper with these steps.
I listened to a directee during spiritual direction this week describe lectio divina as a daily essential practice for her soul.  Diving deeper – like I was called to a few weeks ago – and listen with more intentional focus – is my next right step.
Have you heard of Guigo?  Who are the lamplighters lighting your spiritual journey?
What spiritual practice are you discovering or rediscovering?