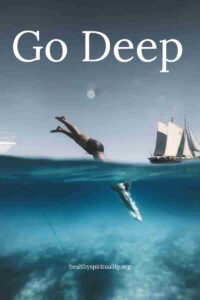 Go is my word for the year. No one warned me in January that this tiny word would so powerfully weave its meaning into my world. Go stretched me in new surprising ways.
My expectation with the word Go felt like a forward motion. I wrote out phrases such as Go with boldness. Letting Go. Get up and go. Go for it. Go the distance.
All leading me onward, accomplishing, moving, crossing the finish line.
Go transforms its meaning to me lately. Go invites me in a new direction. Go deep. Go deeper.
What does this mean?
Go deep stirs up my imagination: descending into a dark damp cave. Entering a new eerie world full of unknowns and shadows and definitely out of my control, yet being led by the Light.
Maybe pushing my roots, small shoots at a time, straining into crusty earth, new soil.
Leaving the safety of shallow waters and diving underwater, holding my breath, scanning the sea floor for hidden treasure.
I sense I am working, yet not producing. Process, but not final product.
I wondered what the Bible says about the word deep. I discovered many verses; here are a few:

The purposes of a person's heart are deep waters, but one who has insight draws them out. Proverbs 20:5 – I am praying for insight to learn the lessons in this deep place.
Jesus said to Simon, "Put out into deep water, and let down the nets for a catch." Luke 5:4

They are like a man building a house, who dug down deep and laid the foundation on rock. When a flood came, the torrent struck that house but could not shake it, because it was well built. Luke 6: 48

I pray that you, being rooted and established in love, may have power, together with all the Lord's holy people, to grasp how wide and long and high and deep is the love of Christ, and to know this love that surpasses knowledge—that you may be filled to the measure of all the fullness of God. Ephesians 3: 17-19
The dictionary defines go deep to mean to persist for a long time. Go deep in American football implies a receiver running down the field in order to catch a long pass.
Go deep swirls in my soul this week and I listen to its lessons. I would love to hear what you think about this phrase and what it means to you.