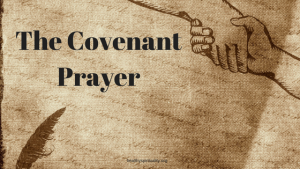 In the series as we explore different types of prayers, I have introduced prayer practices that are part of my regular time with God.  Ones I do frequently like the prayer of examen and breath prayers.
But this week I am featuring one I didn't know much about until I researched it more.  The Covenant Prayer. I think many of us may have tried versions of this prayer but if you are like me, I never dug deeper into the details about it.
The Covenant Prayer
In Richard Foster's book, Prayer – he gives this prayer a full chapter. A covenant prayer is in essence the prayer we may say at baptism, confirmation, or an ordination/consecration. This prayer bubbles up inside my heart often on silent retreats too as a recommitment to God.
We make a covenant with God and pledge our obedience to him. Our full obedience.
Read and ponder this paragraph from Richard Foster:
"We respond to the heavenly overtures of God's love first through the Covenant of Holy Obedience. Without reservation we vow to follow the Father's faintest whisper. In utter devotion and total simplicity, we promise to obey the voice of the true Shepherd…. I know that all sounds so frighteningly absolute and final. How can we possibly fulfil such promise? We cannot. The matter of obedience is God's business and not ours. We cannot do a single good act except God first gives us the desire for it and then empowers us to do it. But that is just the point. God is giving you the desire… and he will never give the desire to do something that he will not also give the power to obey… and if we fall down – and we will fall down – we get up and seek to obey again. We are forming the habit of obedience."
Lots to chew on there, isn't ?
Foster expand on the prayer too by writing about the covenant of time, place, and heart preparation.
We commit to regular experience of prayer. For some people that may mean starting each day with God or following the ancient Hebrew practice of praying three times a day. One commitment I make is the prayer of examen at night. This does not mean a rigid adhesion to law but cultivating a daily practice of listening to God.
The covenant of place encouraged us to find anchors, holy ground, for experiencing God. My prayer chair is such a place. For you it may be your backyard or porch or sanctuary or retreat center. Place also encompassing commitment to community – a spiritual director, spiritual companion, small group, family prayer time or congregation. Where mutual nurturing and accountability arise.
Heart preparation involved the holy expectation that we will hear God's voice. A time we can be honest with God with all our emotions – sadness, joy, anger, fears, laughter. Foster also mentions this could also mean "disciplining the tongue."  OUCH – that is a difficult one, knowing and practicing when to be silent with God and with others. Rituals can be part of heart preparation such a reading the scriptures, music, lighting a candle.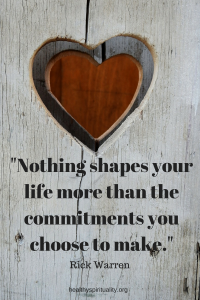 Remembering God's Covenant
Though this prayer is our commitment to obey God, I can't help but think of all the promises God has given us – for us to be his children, to be with us always, to prepare a place for us in heaven, to forgive our sins, to love us.  Remembering God's covenant strengthens and deepens our prayers.
The Covenant Prayer Example.
Foster ends his chapter with a beautiful prayer:
Blessed Savior, I pace back and forth at the altar of commitment. I really do want a fixed habit of prayer. At least, that is what I want right now. I'm not sure if that is what I will want two weeks from now. I do know that without some kind of consistent communion with you, I will not know Holy Obedience. As, as best I can, I promise to set aside time regularly for prayer, meditation, and spiritual reading. Strengthen me in this covenant. Help me to so delight in your presence that I will want to come home to you often.
In your name and for your sake I make this covenant.
Amen.
What do you think of this type of prayer? What ways have you found to be more consistent in  your prayer life?
I sure do appreciate your comments and taking the time to read Healthy Spirituality. FYI – I won't be responding right away to comments or questions due to traveling this month. Will get back to routine to follow up soon!  Thanks.