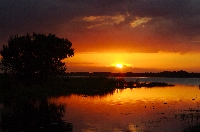 Where is your home?
My experiences lately keep bringing my thoughts back to the concept of home.
My husband and I talked about "home" several years ago when a good friend, close to our age, died. Where did we want to be buried?
We no longer had roots to our hometowns.
We lived in this small village for thirty years now. Though we landed on this geographical place on earth for quite a long time in our adult journey, is this our real home?
When I watched this morning the devastation of homes by tornadoes in the Midwest. I then remembered the huge destruction of homes in Japan from their tragedies.
Suddenly people were homeless. Their physical, temporary structures they called "home" disappeared.
Home – where is our real home?
I sat and held the hands of my friend as she died last week. I watched her body fade away and her spirit rise to heaven. She is truly home today.
She is no longer in a place that is temporary. No longer homeless.
The Gospel this past Sunday was one of my favorites and often used in funeral services:
Do not let your hearts be troubled. You believe in God; believe also in me.

 

My Father's house has many rooms; if that were not so, would I have told you that I am going there to prepare a place for you?

 

And if I go and prepare a place for you, I will come back and take you to be with me that you also may be where I am. –

 

John 14: 1-3 (NIV)
I like the Billie Graham quote, "My home is in Heaven. I'm just traveling through this world."
I think Billie is right: our real home is in heaven. Jesus told us in John 14 – He is preparing our home for us and will come to take us there.
Don Moen's song
If You Could See Me Now
gives me comfort this week:
Our prayers have been answered 

I finally arrived 

The healing that had been delayed 

Is now realized 

No one's in a hurry 

There's no schedule to keep 

We're all enjoying Jesus 

Just sitting at His feet
If you could see me now 
I'm walking streets of gold 

If you could see me now 
I'm walking tall and whole 

If you could see me now 
You'd know I've seen His face 

If you could see me now 
You'd know the pain's erased 

You wouldn't want me to ever leave this place 

If only you could see me now 

My light and temporary trials 

Have worked out for my good 

To know it brought Him glory 

When I misunderstood 

Though we've had our sorrows 

They can never compare 

To what Jesus has in store for us 

No language can compare.
Where is home?
I guess my feeling of homelessness is normal while we live on earth. We are just transient travelers through this world.
I know my loved ones who have finished their journeys -my parents…my friends… others who have touched my life
– are now in heaven – at home.
Do you ever feel homeless on this earth?