All praise to the God and Father of our Master, Jesus the Messiah!
God of all healing counsel!
He comes alongside us when we go through hard times, and before you know it, he brings us alongside someone else who is going through hard times so that we can be there for that person just as God was there for us.
We have plenty of hard times that come from following the Messiah, but no more so than the good times of his healing comfort—we get a full measure of that, too.
2 Corinthians 1: 3-5 (The Message)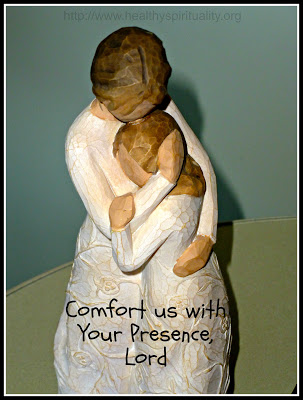 I stumbled into your arms tonight, Lord.
My heart plunges even further shattered in disbelief; in pieces that can't be put back together.
Lord, this evil that pervades the world overwhelms us at times.
Wickedness darkens our life by snuffing out too many candles, much too soon.
I am weary of senseless violence, Lord.
Eradicate evil and grant us Your Goodness.
Today I hold my kids a little longer.
Tomorrow I will snuggle my precious grandkids.
But some have empty arms now.
Help us remember each day that life is fragile and fleeting.
Open our eyes to see others around us who are hurting, lost, despondent. 
Help us find nonviolent paths from brokenness to wholeness, from desperation to hope.
May our prayers and quiet presence comfort others.
Flood our communities with grace in this hour of intense anguish and blinding emotions.
I can't imagine a better Christmas gift right now, Lord, than Your love, peace and presence wrapped around the world.